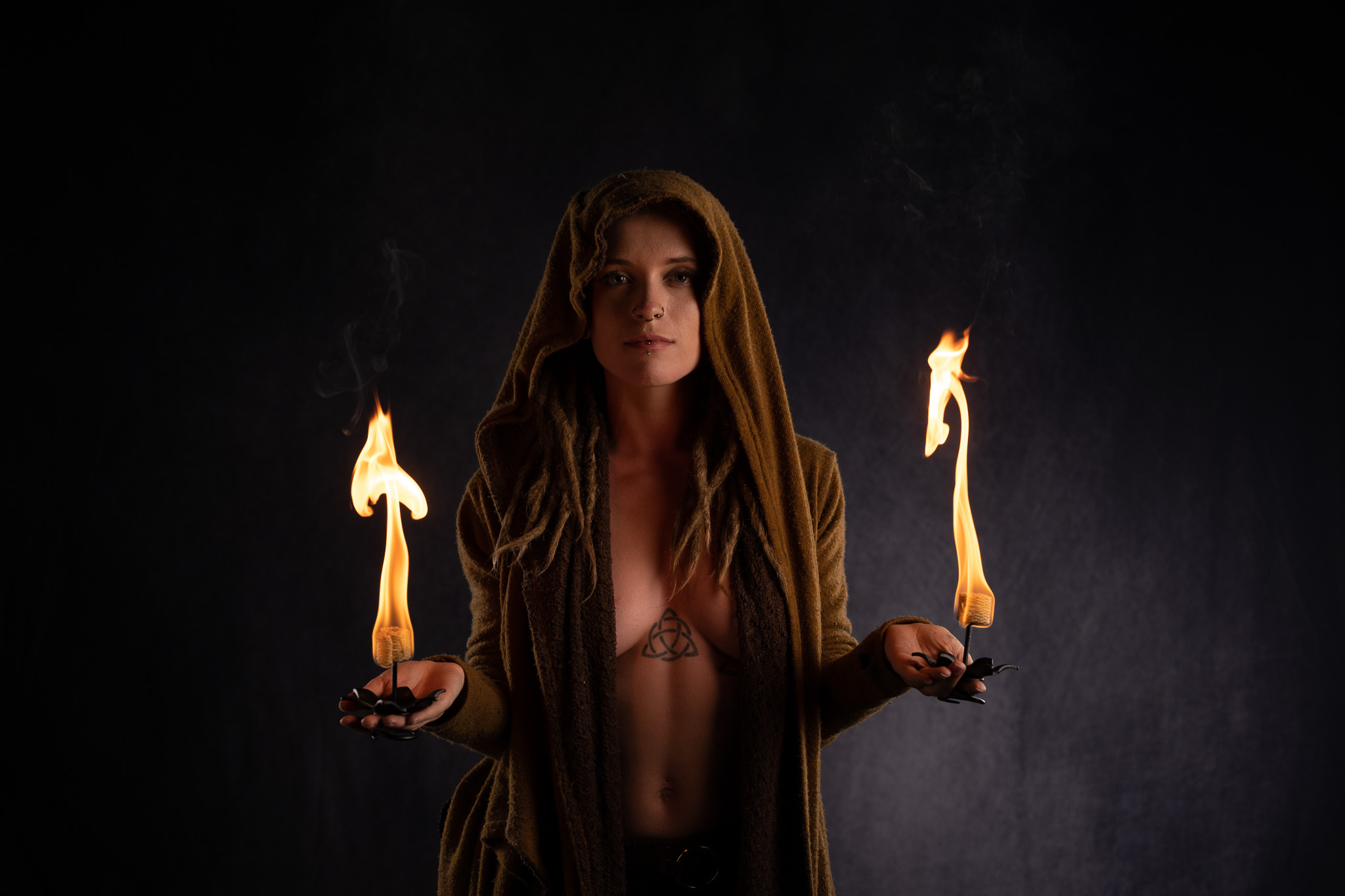 Aliya is a creatrix who's performance embodies her soul's journey through dance and felt emotion.
As a self taught artist, she has invested her energy surrendering more into her flow, learning complex tricks and skills and enjoys sharing her passion for flow arts. She encapsulates her audience by taking them on a journey to reclaim their connection to themselves and music.
Aliya's skills include Poi, Hoop, Dragon staff and has a knack for spinning fire! Be careful when she ignites her fire, she will likely leave you burning for more. Allow her to seduce your senses as she raises the vibration of the space you have entered.
Be sure to say hello!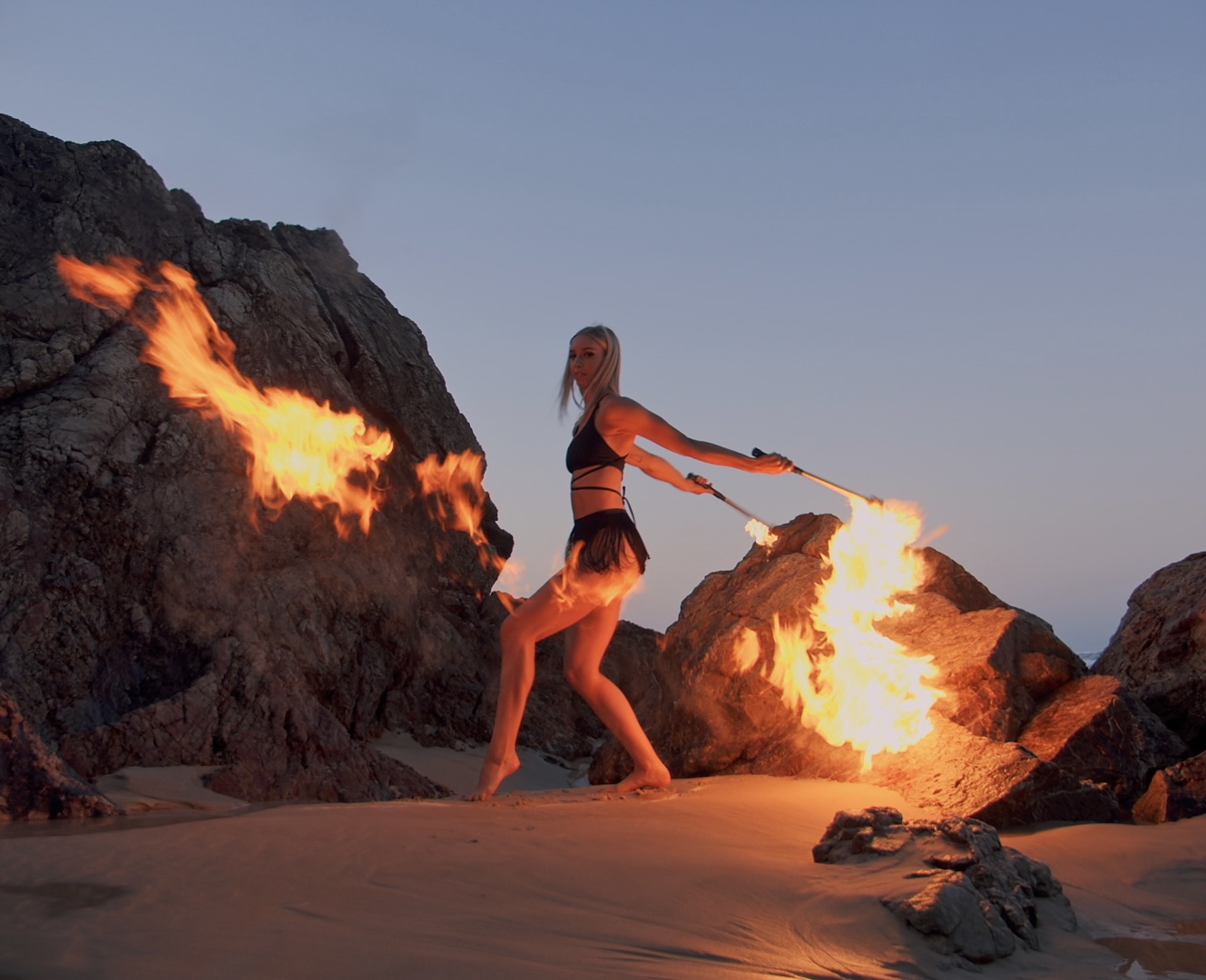 Anna Louise is a professional dancer and performer based in South East Queensland. Her skills include a wide variety of dance genres, multiprop fire and LED performances, pole dance, aerial hoop, stilt walking and hula hooping.

With years of formal training as a dancer and circus artist, Anna Louise has been moving to a beat since she could walk. Now a regular performer for some of the leading entertainment companies in Queensland, you will find her performing at festivals, corporate and public events across the state.

Her shows are set to captivate audiences as she brings her technique and passion as a dancer to her flow as a performing artist. Through her entrancing and graceful movement you may find yourself bewitched.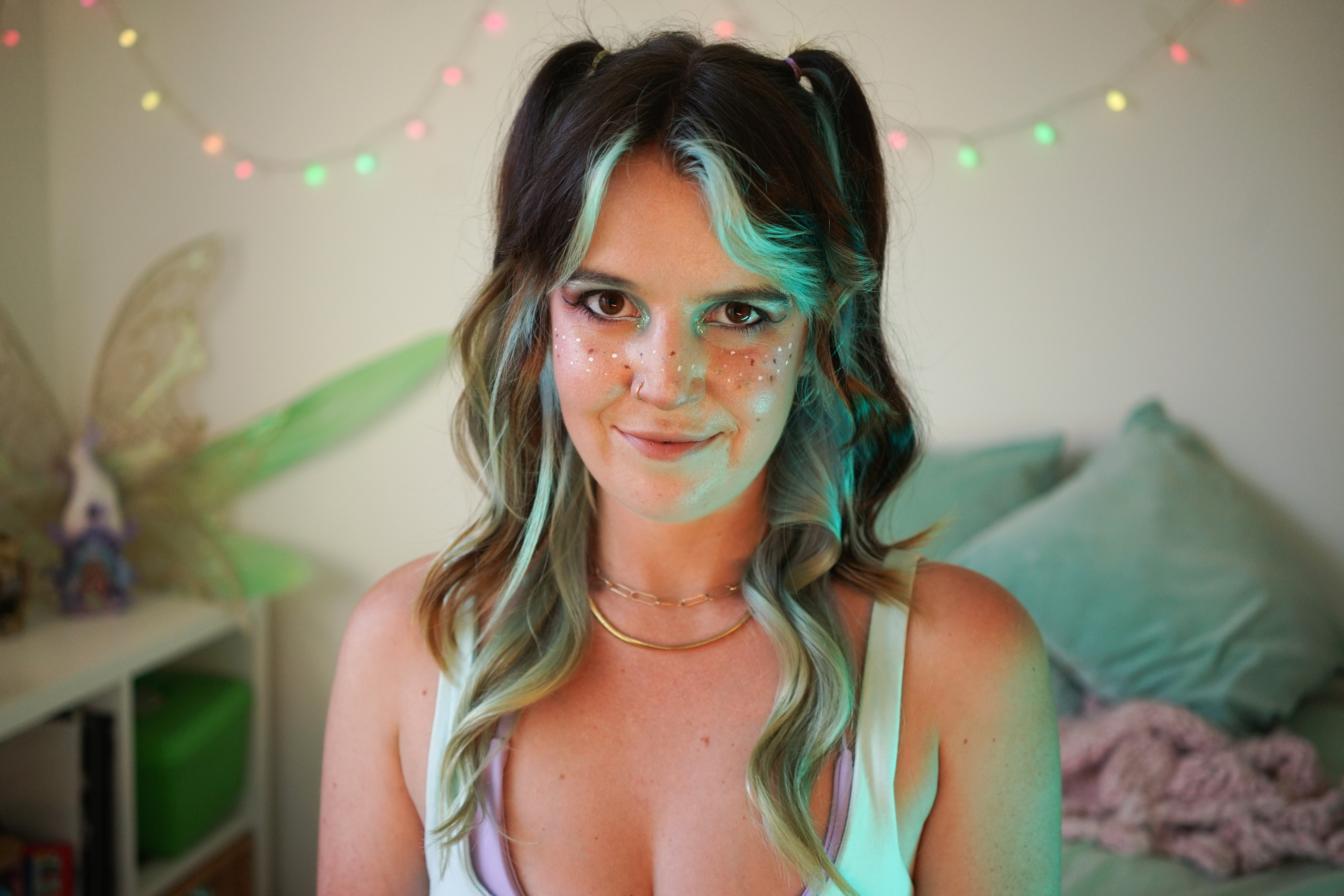 Bridgie Doyle is a Northern NSW based performer and dancer. Specialising in poi, pole dance, LED performances and fire spinning, Bridgie is known for her feminine flow and fairy-like movements.

Although usually seen working behind the camera, Bridgie Doyle has been performing for as long as she could walk. With years of training as a singer, actor and dancer, Bridgie is no stranger to the stage and loves to bring her passion and magnetic energy to audiences around the country.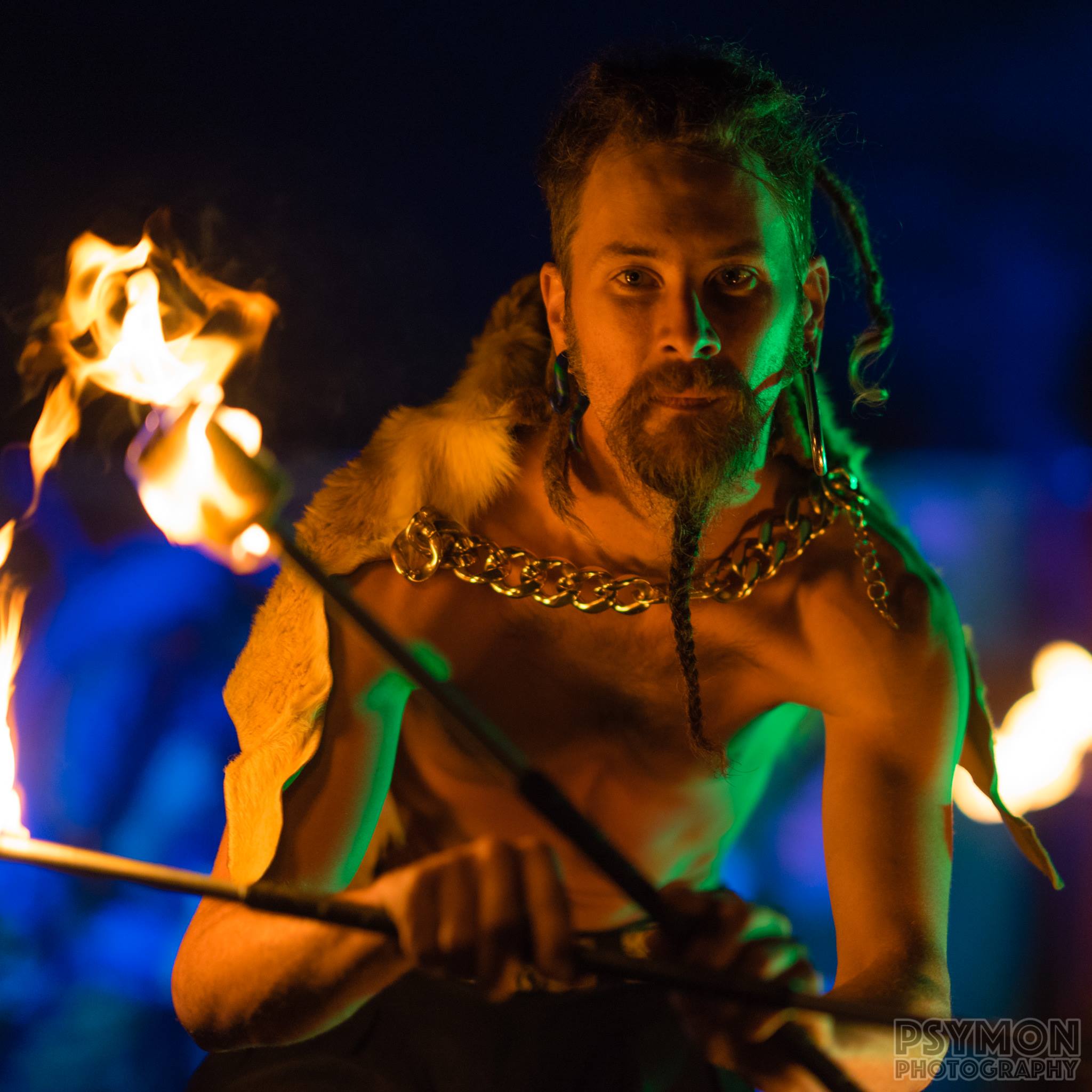 Buzz Killington loves to capture the audience's imagination and then blow them away with his EXPLOSIVE display.

Buzz is long term fire manipulator with over a decade of experience and loves to watch things burn! He's a practitioner of a wide range of fire props with a captivating stage presence that provides the audience with a dynamic and entertaining show.

Originally hailing from the NSW Central Coast he is a current fixture of the Brisbane fire community. Buzz has performed at range of Australian venues and festivals including Rainbow Serpent, Splendour in the Grass, Ironfest, Dragon Dreaming, Rabbits Eat Lettuce and Subsonic.


Mr Killington is ready to dazzle and amaze. Prepare to be blown away!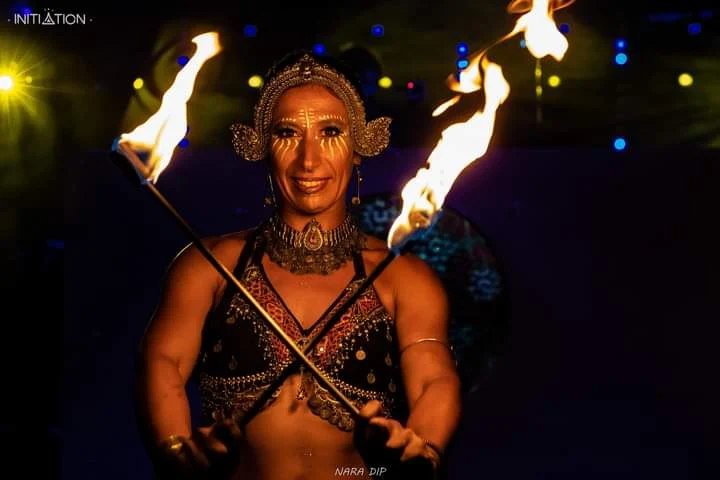 Carlotta Menna. I am originally from Italy, I have been living in New Zealand and Australia for over 8 years. I have been working with movement, dance, belly dance, aerial dance, fire spinning, contemporary dance and yoga for over 10 years, teaching and performing in different countries and festivals. I love performing! During the years I had the opportunity to be on stage at many festivals in Australia, Europe, USA and New Zealand. The best way to communicate my love for dancing and to music is to express it and share it. My performances are very eclectic: I like to mix tribal fusion belly dance with other dance genres, yoga poses and with fire twirling to create a unique energy, sensual and sassy, flowy and powerful at the same time.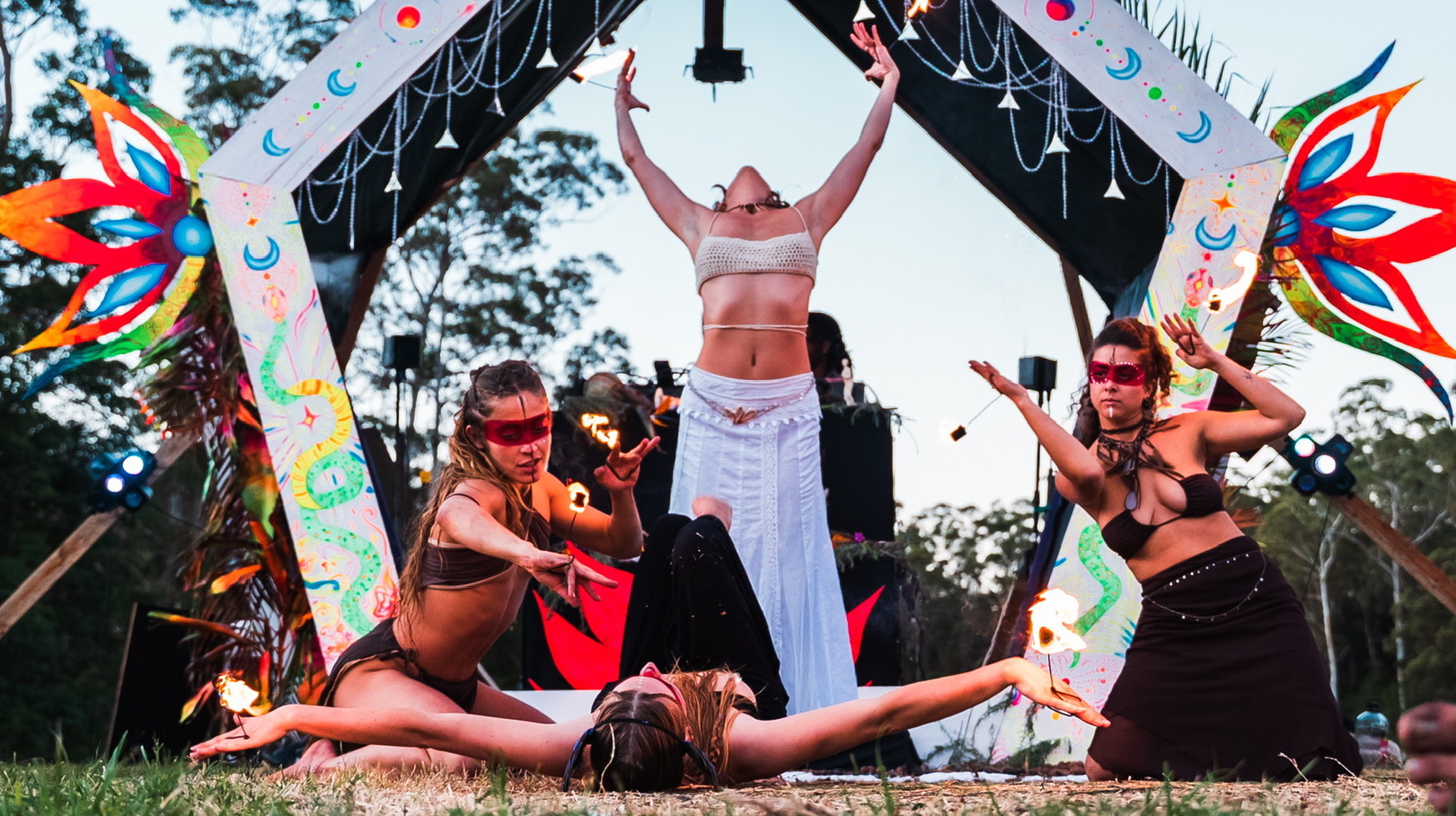 Choatica is a female dance group that embodies divine feminine energy to create authentic and raw performances. Based on flow state principles this act utilises embodied movement to channel and direct energy. Their unique performances prioritise a shared flow and reflect a connection to the earth and the wild woman within. Creatively directed by CHOASMIC, this act is not one to miss. Additionally, music is sourced and live mixed by LilxBit allowing for a symbiotic relationship between dancers and music.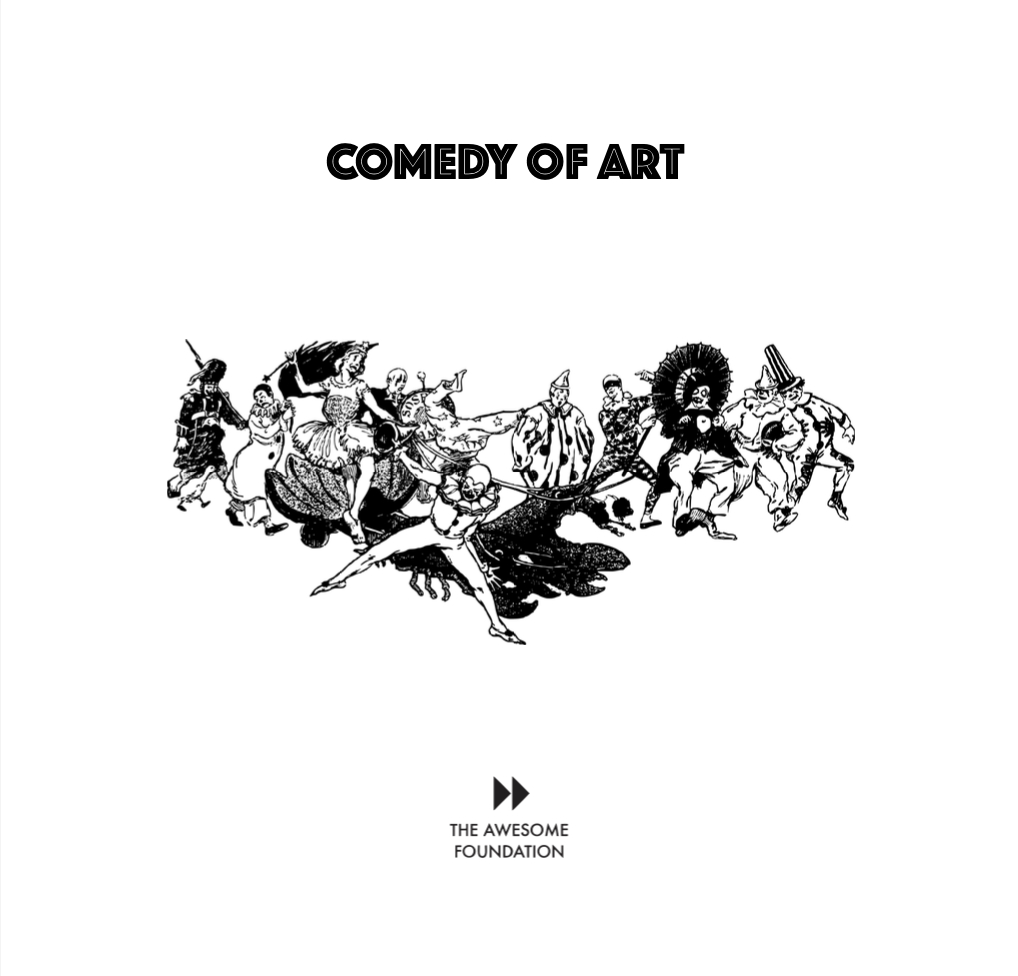 Comedy Of Art is an immersive theatre, created to nourish a spirit of the child. A collaboration of visual artists, musicians, performers, designers and comedians, The Awesome Foundation grantee, Comedy of Art is dedicated to helping people tap into a well of bubbling joy inside. Comedy of Art breaks boundaries and traditions of performance art, blending dance, art, music and theatre. Comedy Of Art has created spectacle at the events attended by 55,000+ people playing and performing shows that take people on a journey into their childhood. The powerhouse of delightful revelry.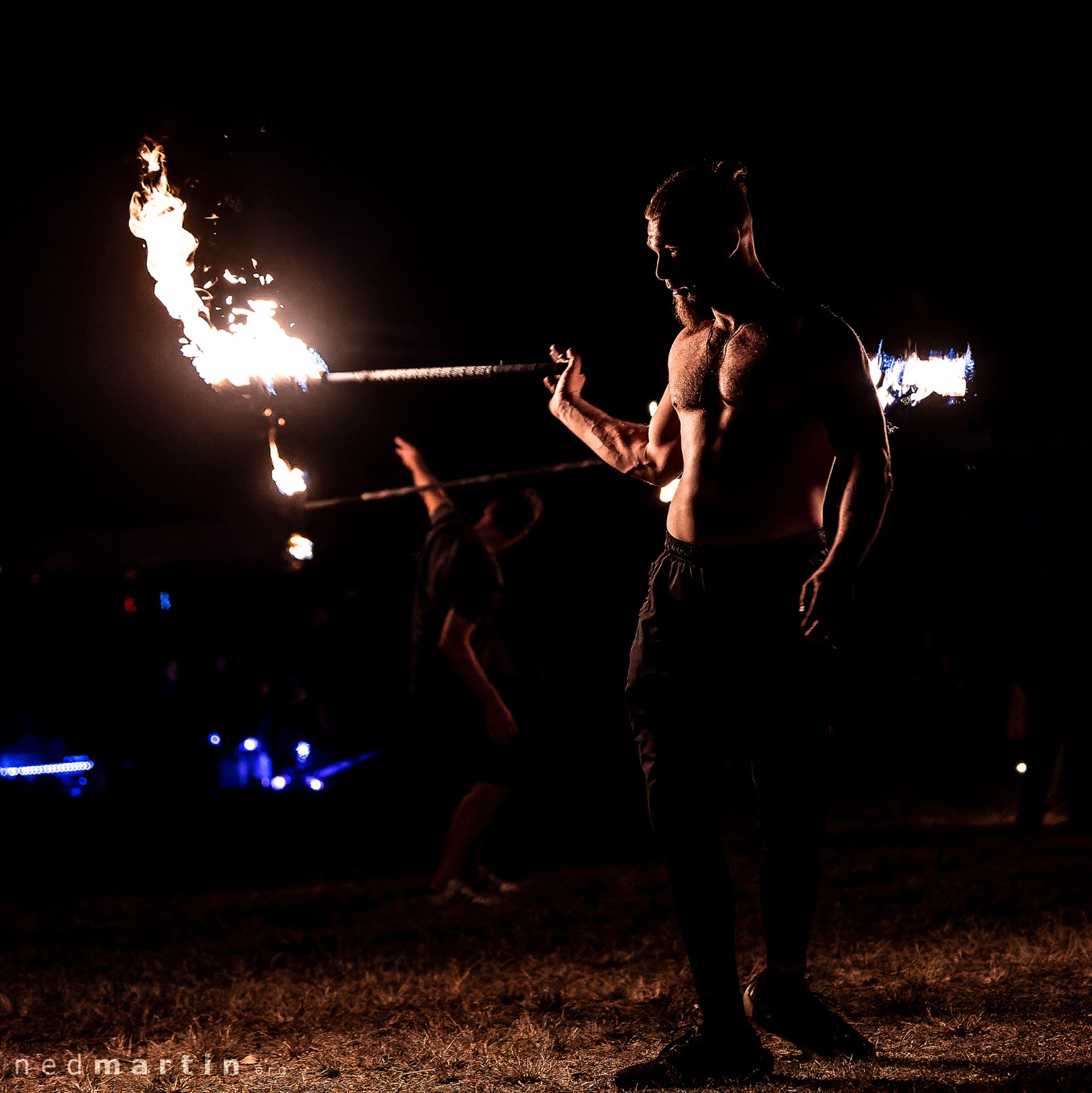 I display a mix of martial arts and flow art. My props are contact staff and dragon staff, which I use to mesmerise and inspire the crowd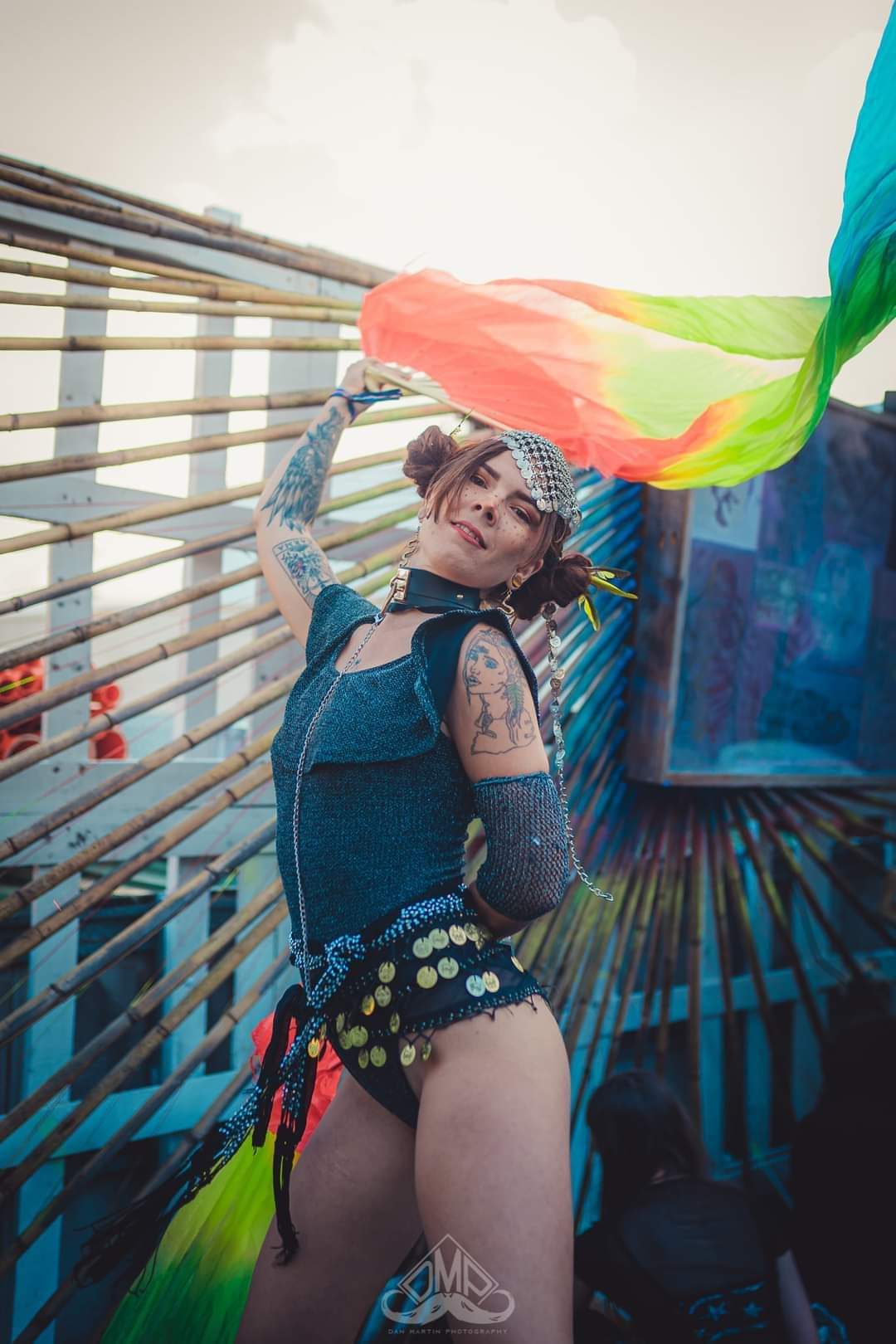 Dragon fae 🐉
A serpentine dancer who specialises in fire performance, circus arts and ritual performance.
Allow this fae transform you into a transformational dimension.
She has an array of flow toys at her disposal which include: Fire Palms, Fire Fans, Levi-wand, Dragon Staff, Flow Fans, silk and Poi, and is ready to put on a fiery display for you to feast your eyes upon
You may have seen this dragon fae with her creature family crative creatures!
Recently apart of Esoteric and zenith opening ceremony while featuring at many festivals Australia wide from mushroom valley, elements, asteria gathering, orinaya, rootbound, rabbits eat lettuce and more! This dragon fae is spreading her wings! Will you be able to catch her this time!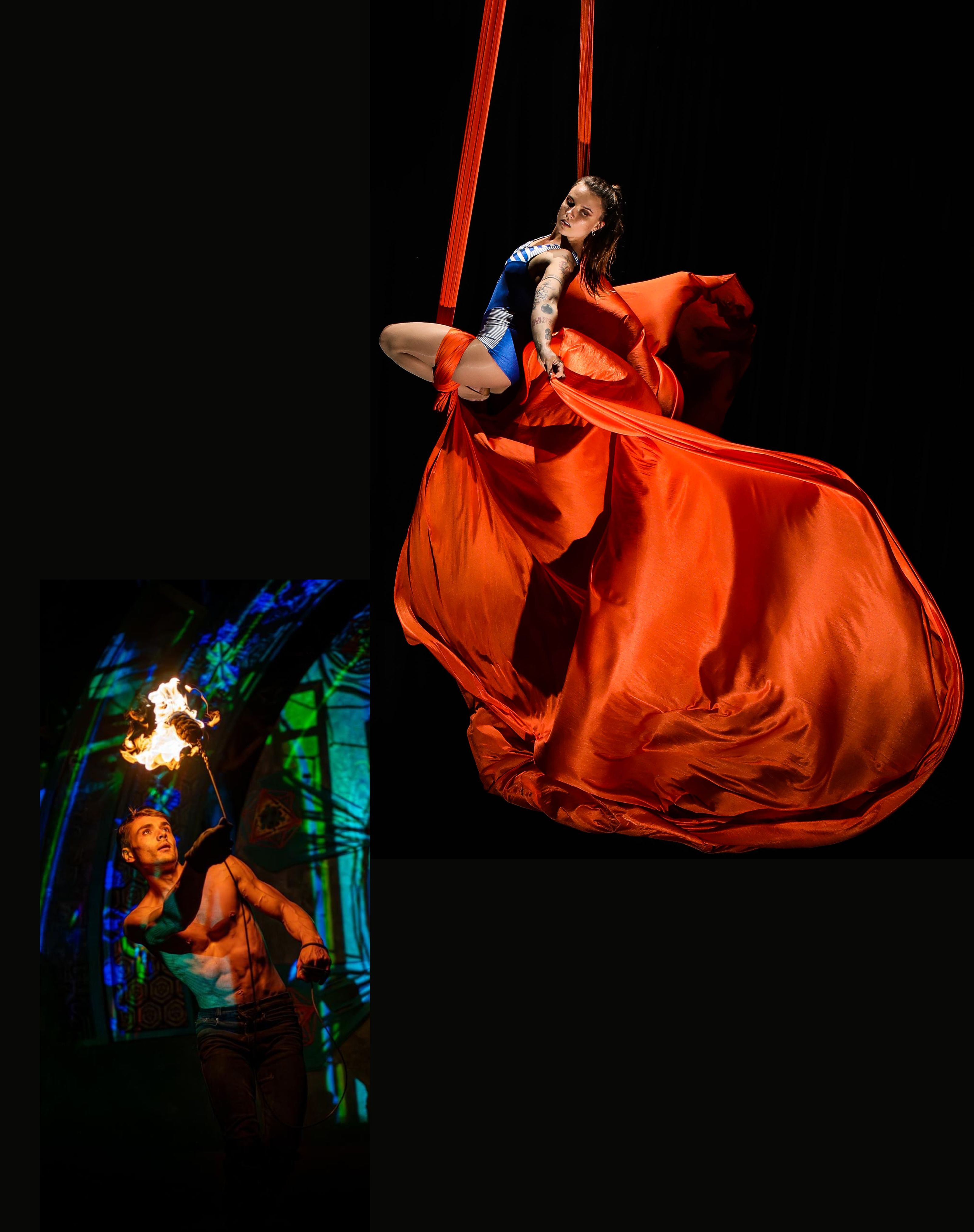 We use a mix of aerials, acrobatics, martial arts, dancing and fire to tell a story of conflict, love, reconciliation and adventure. A Dance of Air and Fire is a graceful, elegant, daring and powerful display of skill that will take the air from your lungs and light the fire in your heart.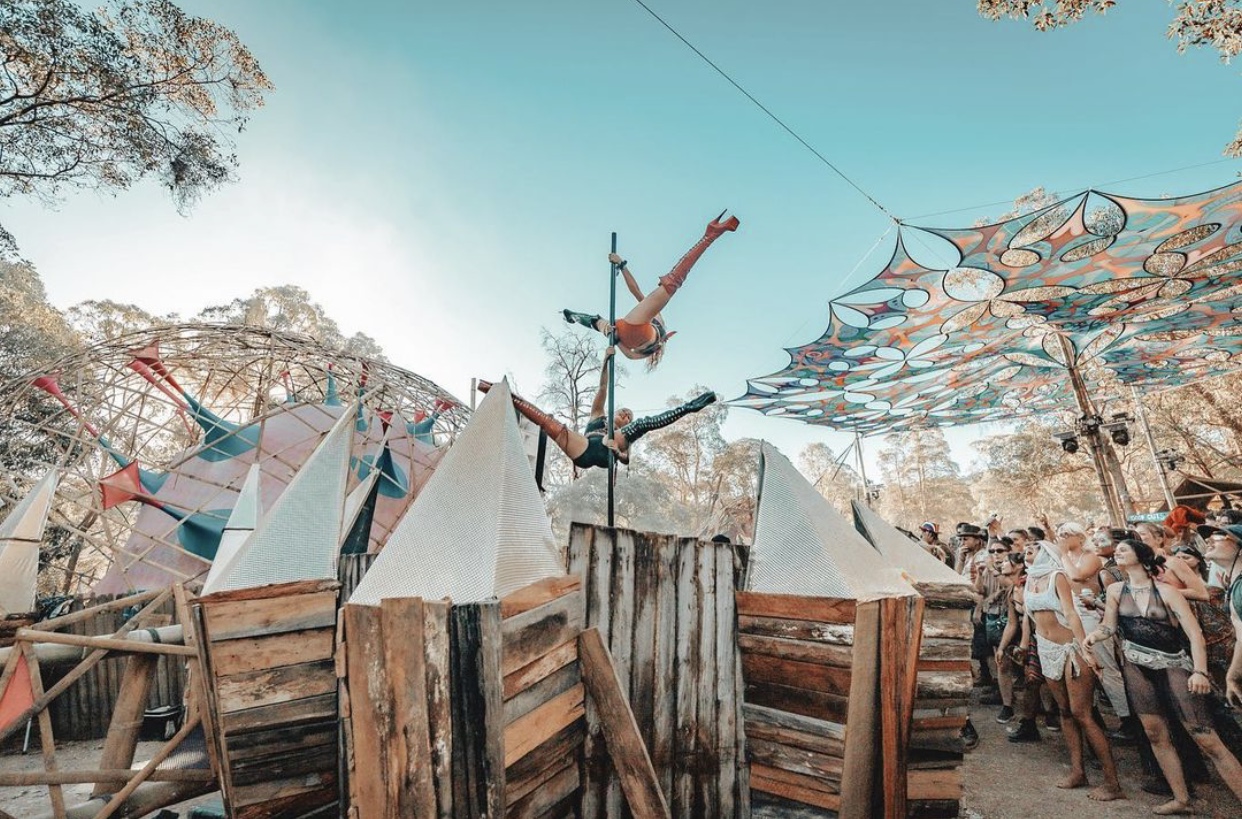 Filthy Aliens are a tribe of female extraterrestrials, with the power captivate and mesmerise earthlings with their skilled art of aerial performance. Specialising in an alluring and unique combination of pole dance and fire performance - let them take you on a journey out of this world.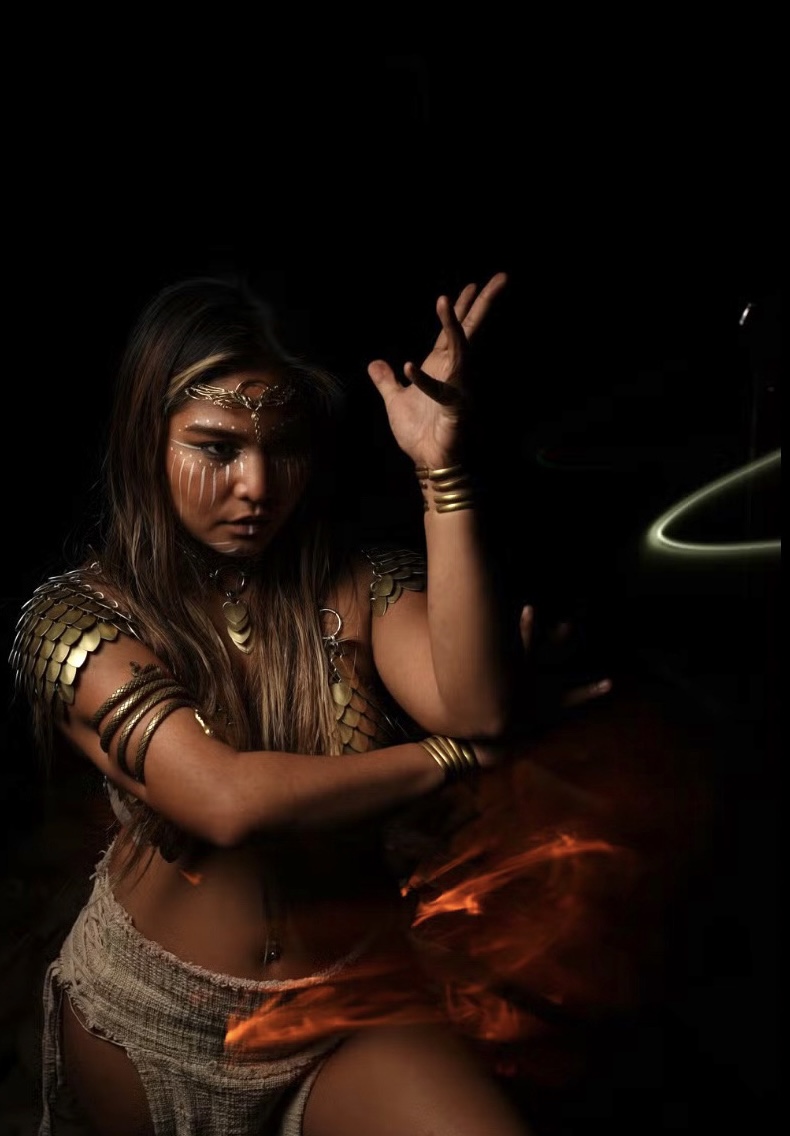 Emmanuelle Engkantada is a Filipino-born artist, encompassing a diverse range of talents including embodiment dancing, Kundalini dance, and mesmerizing fire performances.

Her name, Emmanuelle, is Latin for "God is with us", and
Engkantada pays homage to her Filipino roots meaning "song, tale, enchantress" .
When the words, Emmanuelle Engkantada are spoken in harmony, it is a greeting
For the light of the soul to be seen, her song to be heard and her story to be told.

Serving as a conduit, Emmanuelle channels the ethereal language of light, infusing vocal expression and movement directly from the divine source. At the core of her artistry lies Kundalini dance, a transcendent practice that harmoniously unites breath, life force energy, and movement.

Every performance is an intentional offering to spread the Light within each one of us.
Her unwavering passion lies in inspiring her audience to unleash their soul's inherent gifts manifested in the physical gifts of the body, mind, and heart, allowing their inner flame to burn brightly.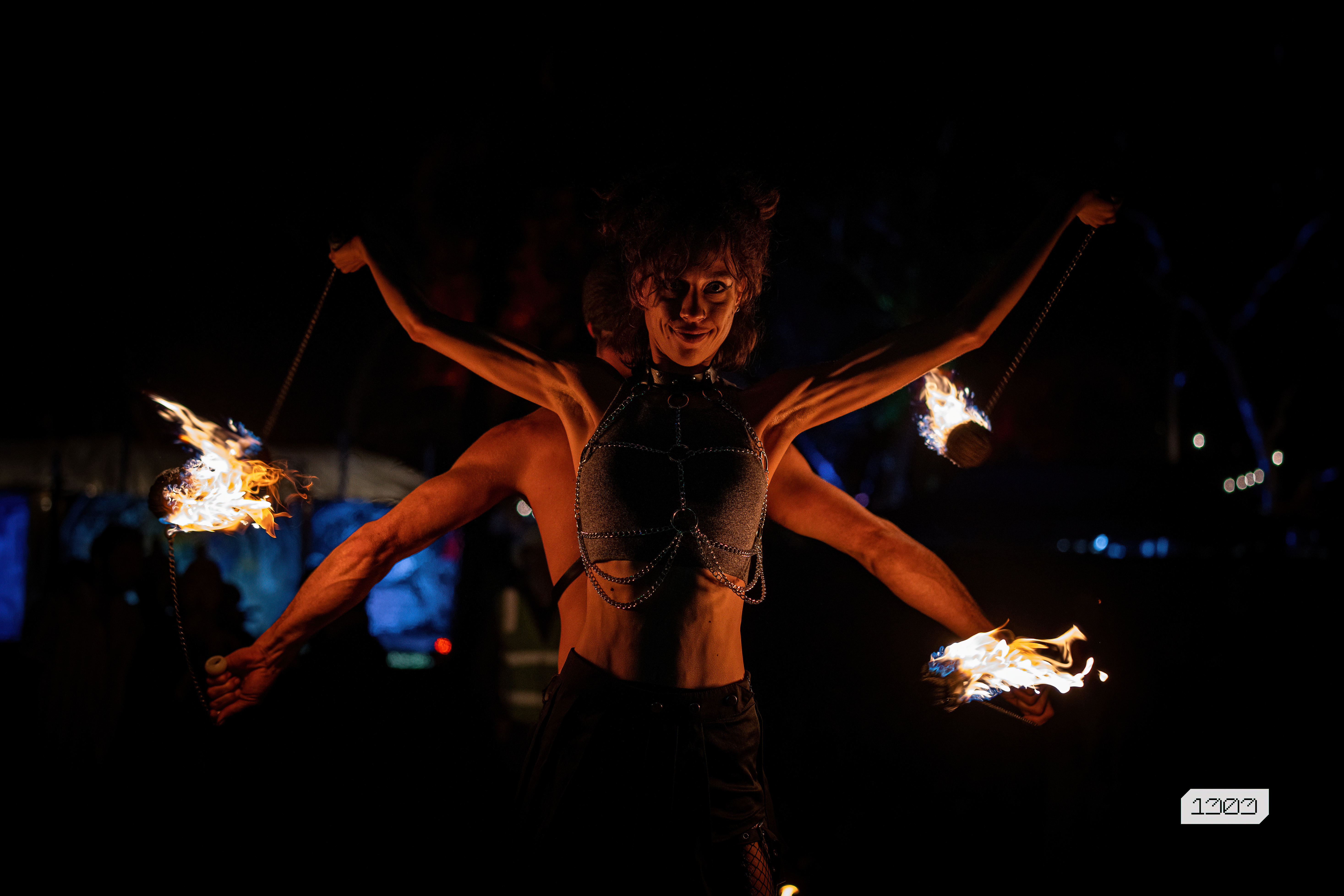 Twin Flame Fire is a sexy, fun and fiery duo that will entrance the dance floor. If your festival wasn't spicy enough already then - Watch the energy, experience the chemistry and feel that burning sensation that is Twin Flame Fire.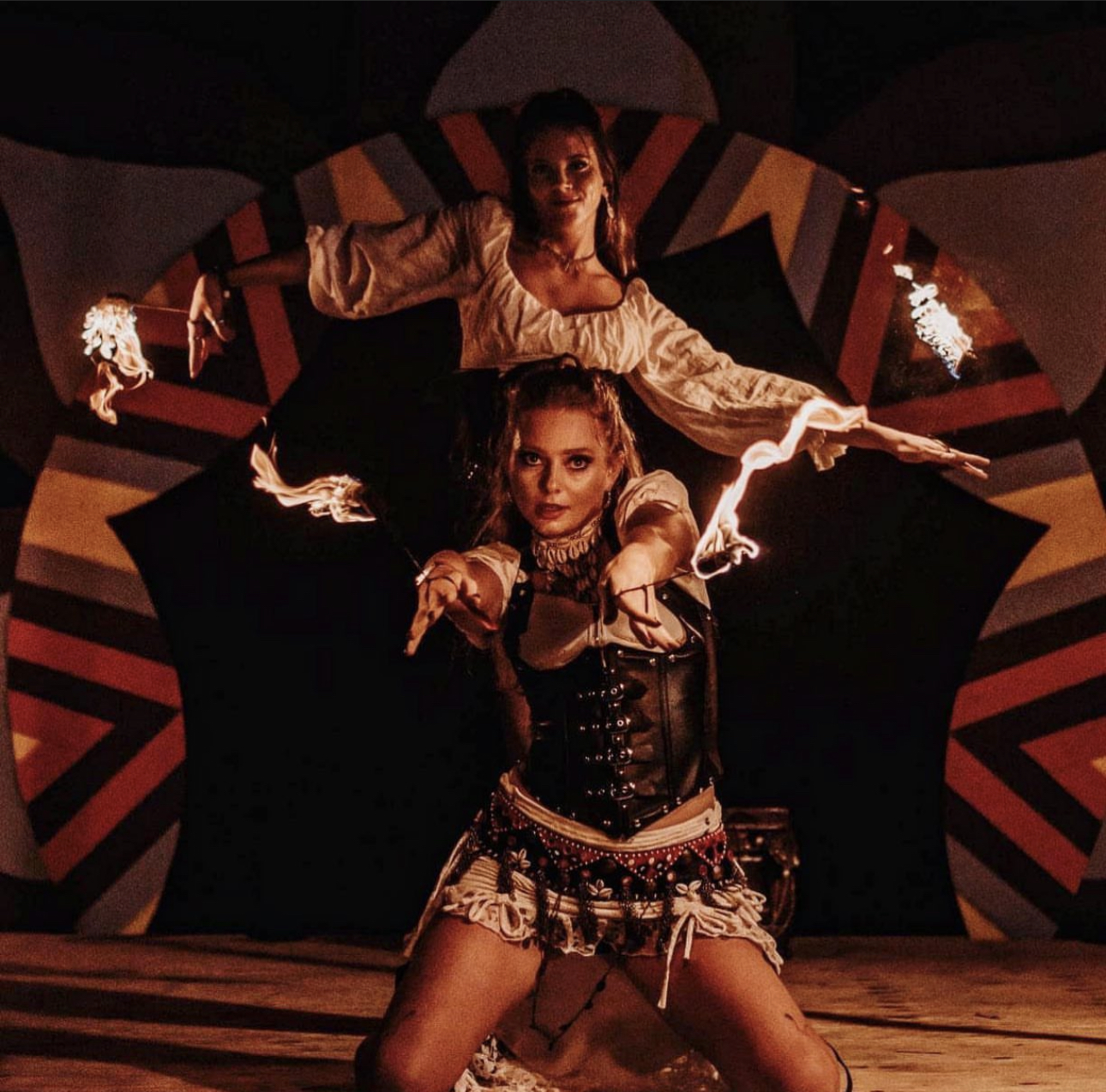 Flaming Sirens is a group of women who embody ritualistic prayerformance, using sacred story telling to showcase their connection to Fire and Water. The group is a professional multi- prop and skilled sisterhood - using dance, Fire, acrobatics.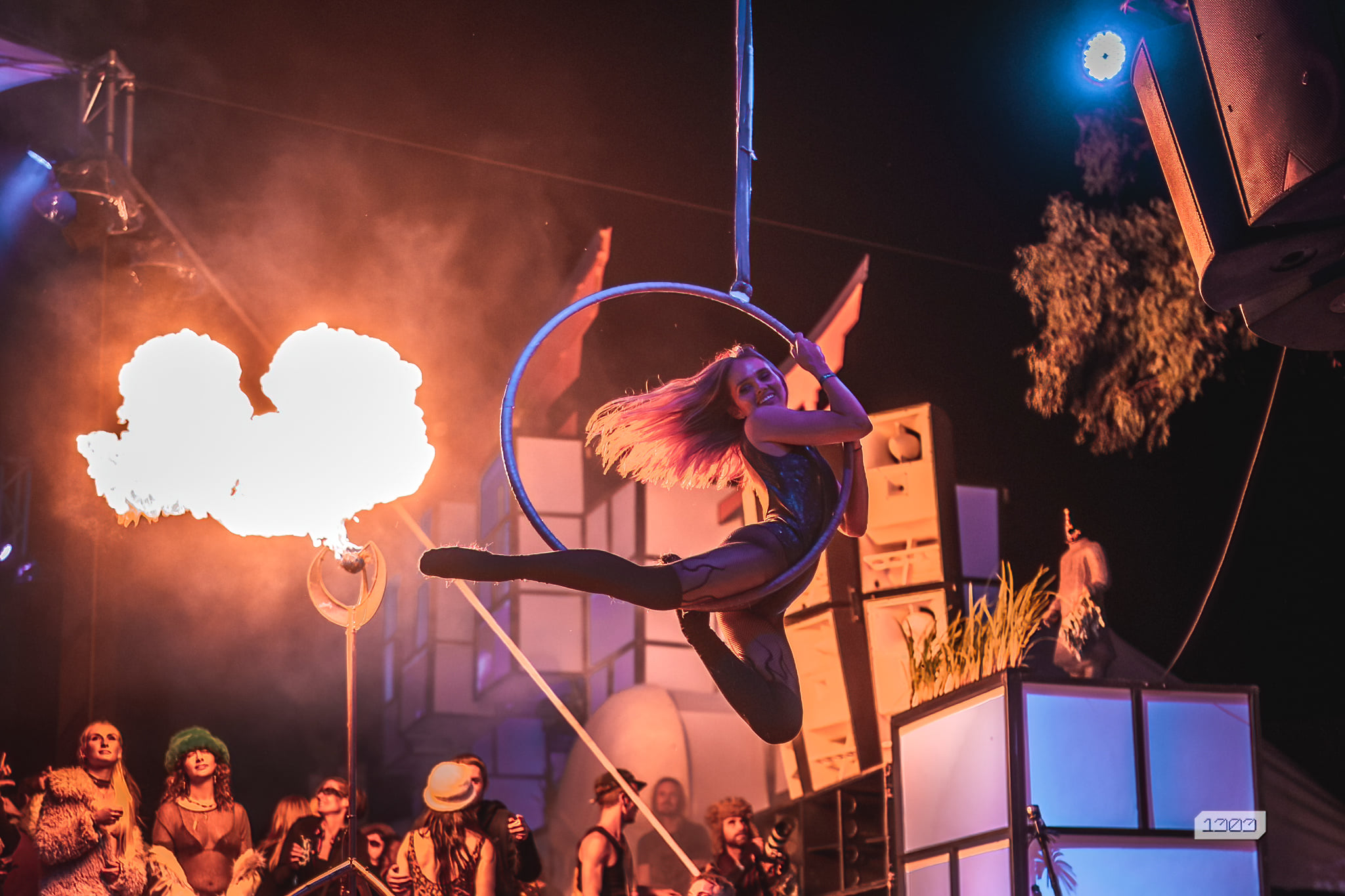 Claudia AKA Foxy Foe is a trained aerialist based in Sydney. She has an innate passion for self expression and stepping into the unknown, by skilfully integrating fire props and silk fans into her mesmerising aerial routines.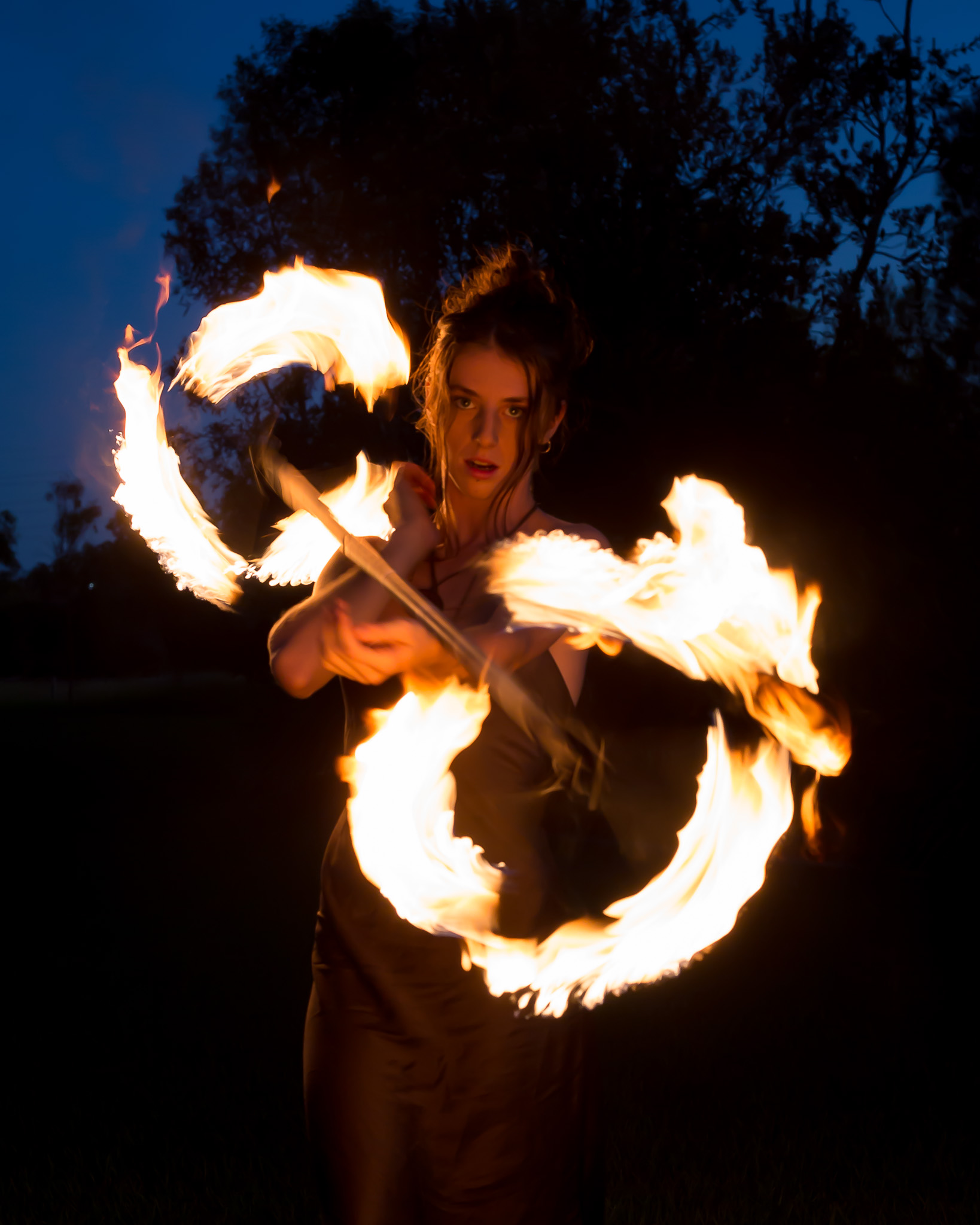 Moving with intention and creativity to combine movement meditation with sacred geometric patterns, delivering a captivating and expressive performance.

Through out the night she harnesses the power of the flame via palms, single and double staffs & dragon staff as well as feeling into the electric nature of LED props such as hoop and staffs to bring out the wild within.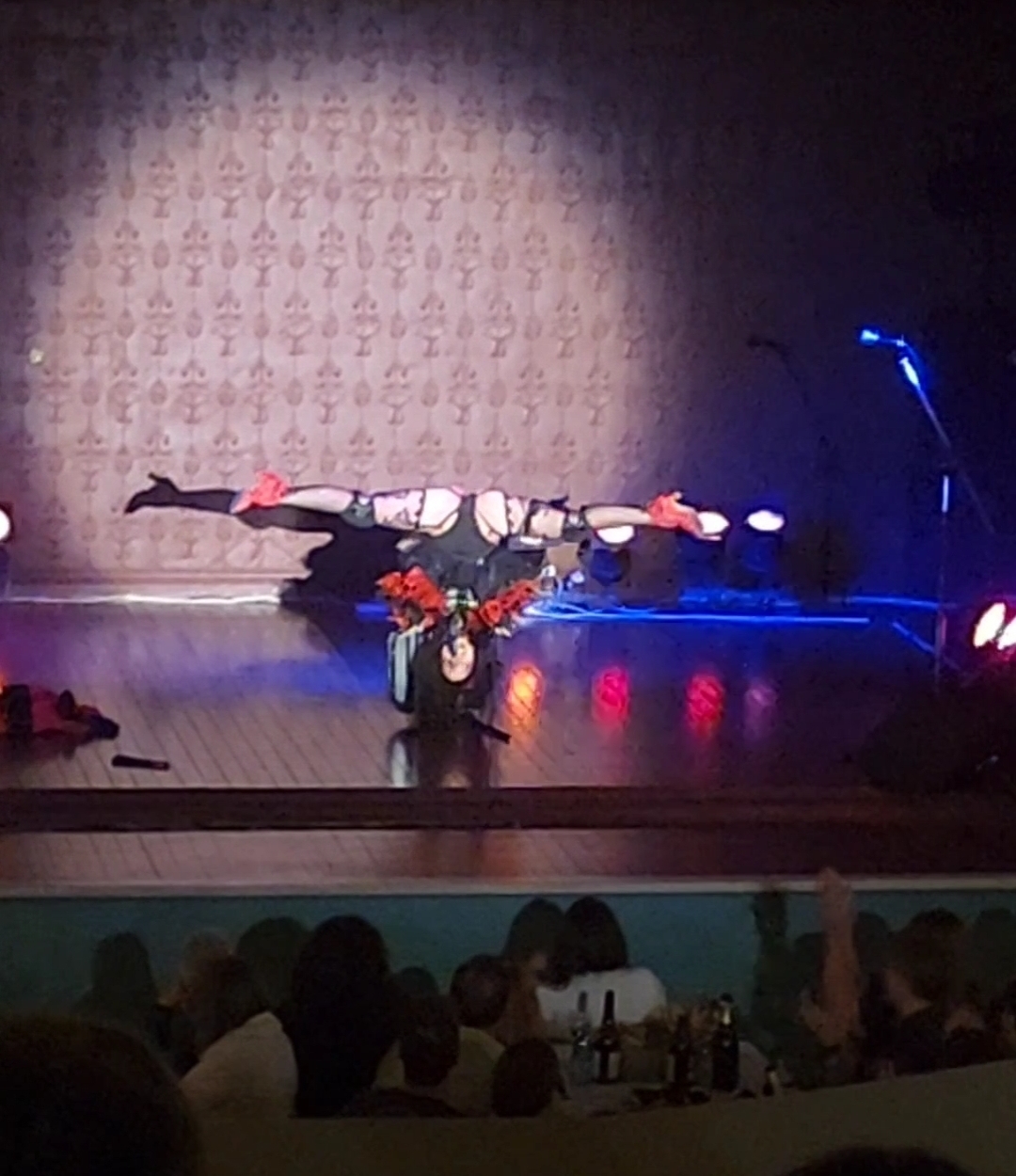 Floor Dance, Chair dance, Pole dance, improvised Contemporary, Fusion Flamenco, Fusion belly dance, contemporary fire flow, story telling.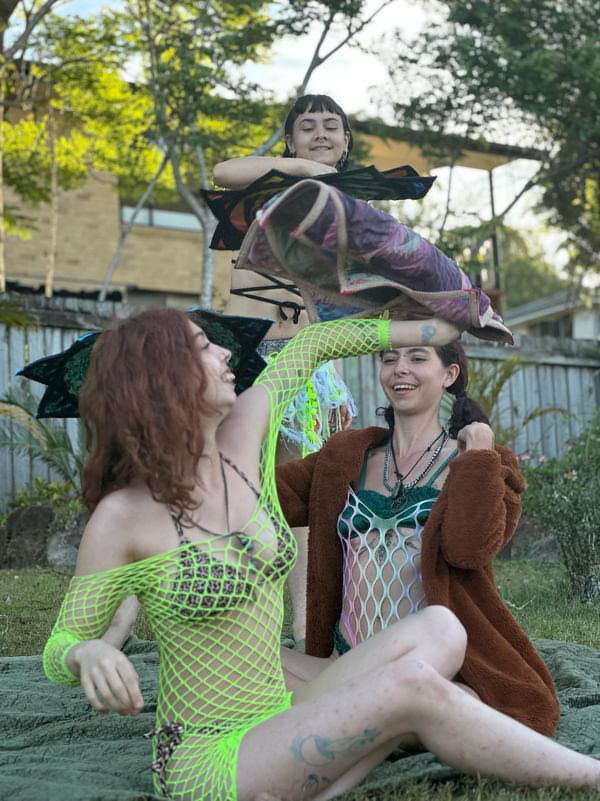 The galactic zoo have been dancing together for years now, it is our aspiration to share the magic of flow star with the world. Watch as we dress up in crazy uv reactive outfits and spin out dapos, they are always guaranteed to wow a crowd!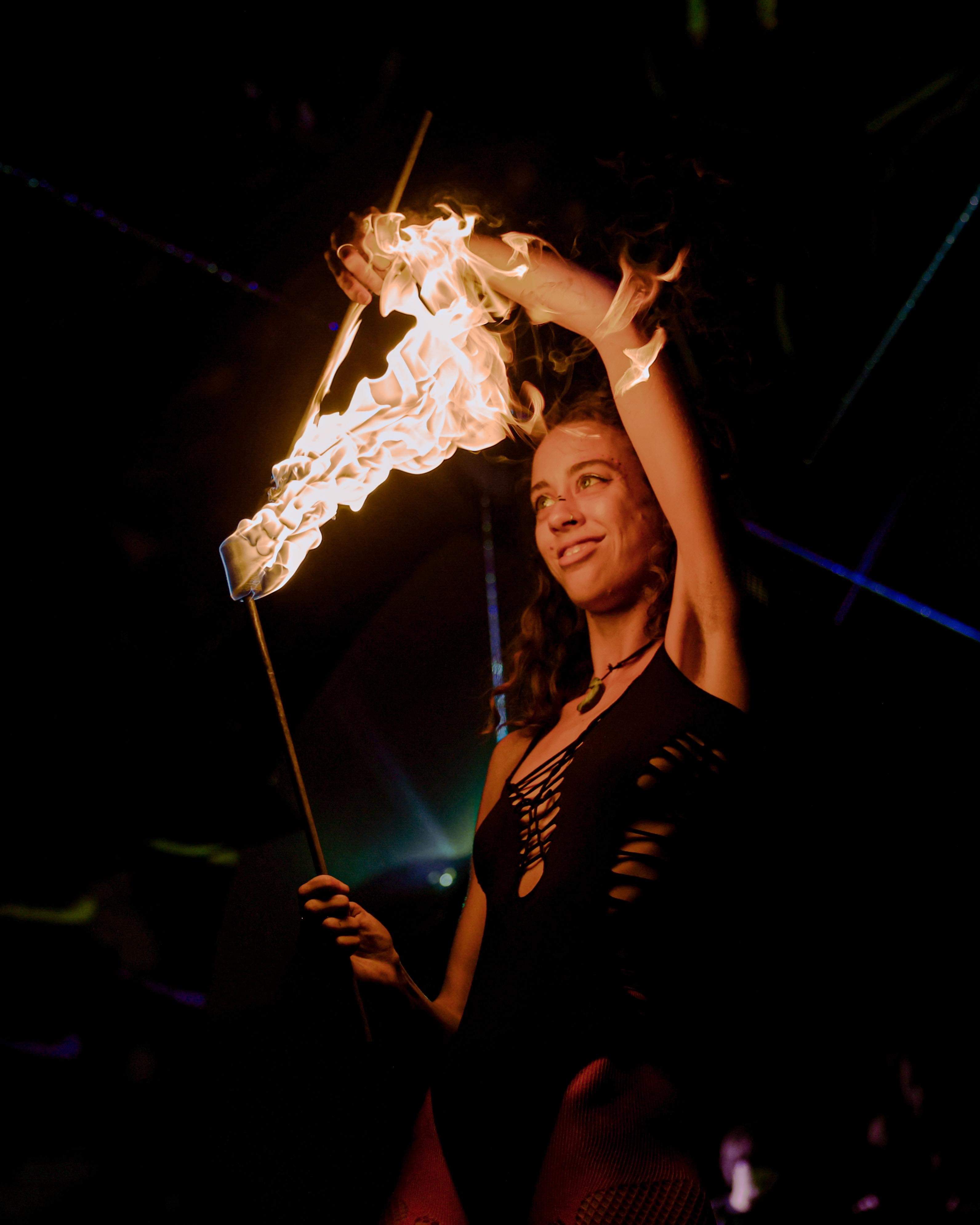 Come and watch Gracie unravel the mystery of motion on fire. Her elegant and enticing moves will leave you captivated on the dance floor. Her passion, combining true grit and grace will have you begging for more.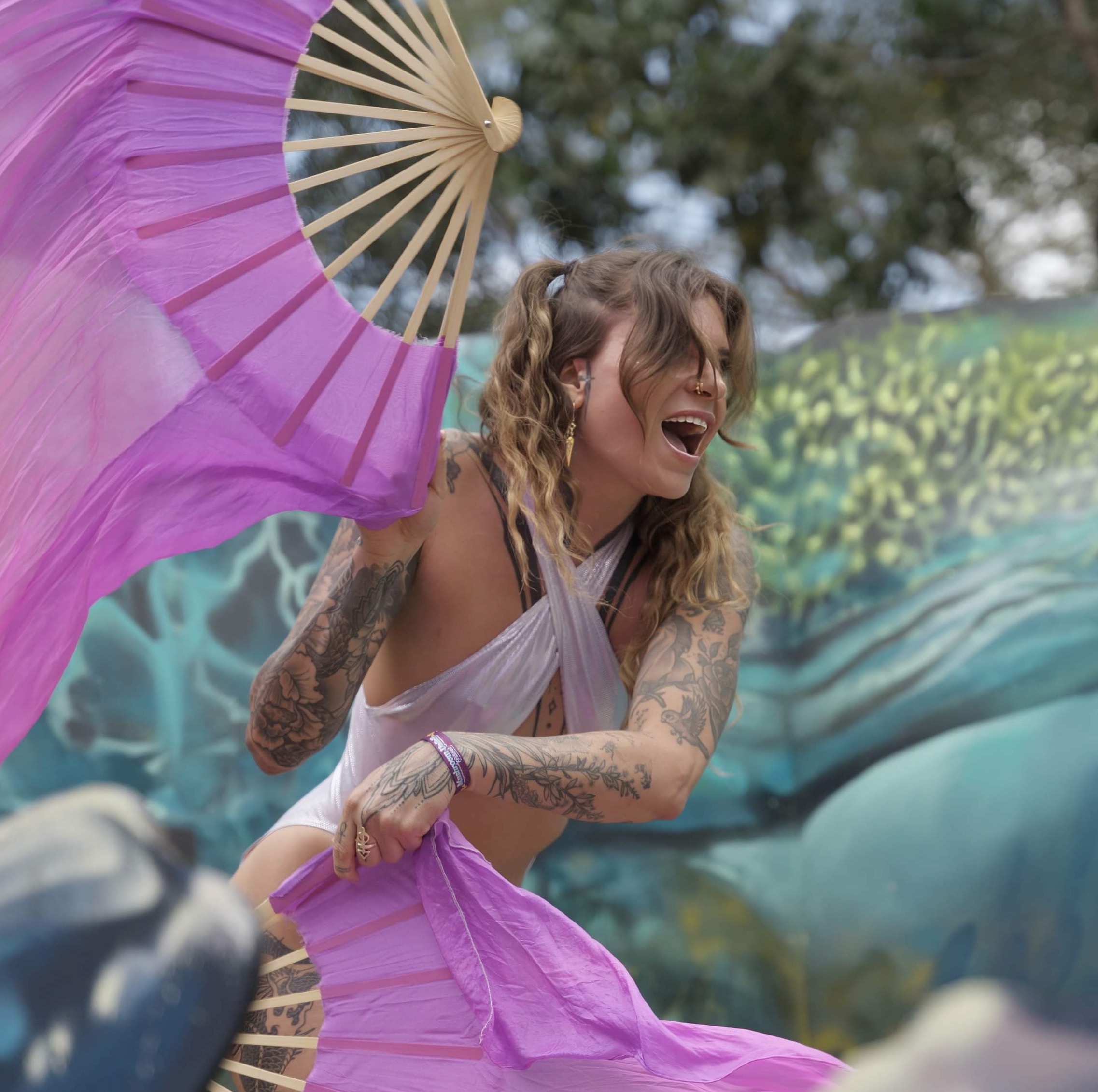 A spicy light beam of a performer, INKA takes the stage by storm with her elemental movement and embodied flow. Working with the elements of fire and air, her fierce, flaming energy captivates all who dare see.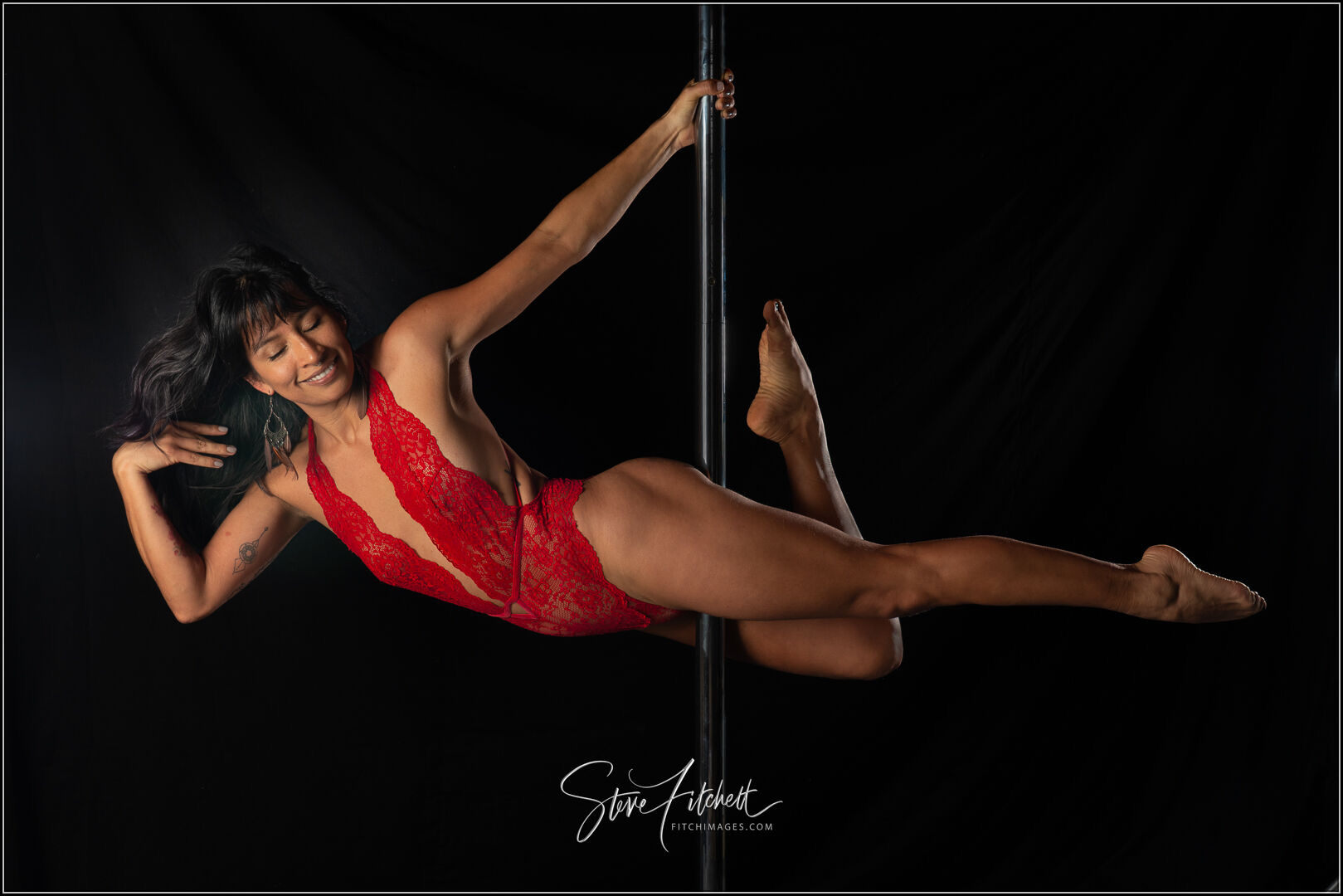 My art is to make flow look light and elegant by keeping the sensuality of dancing on a pole.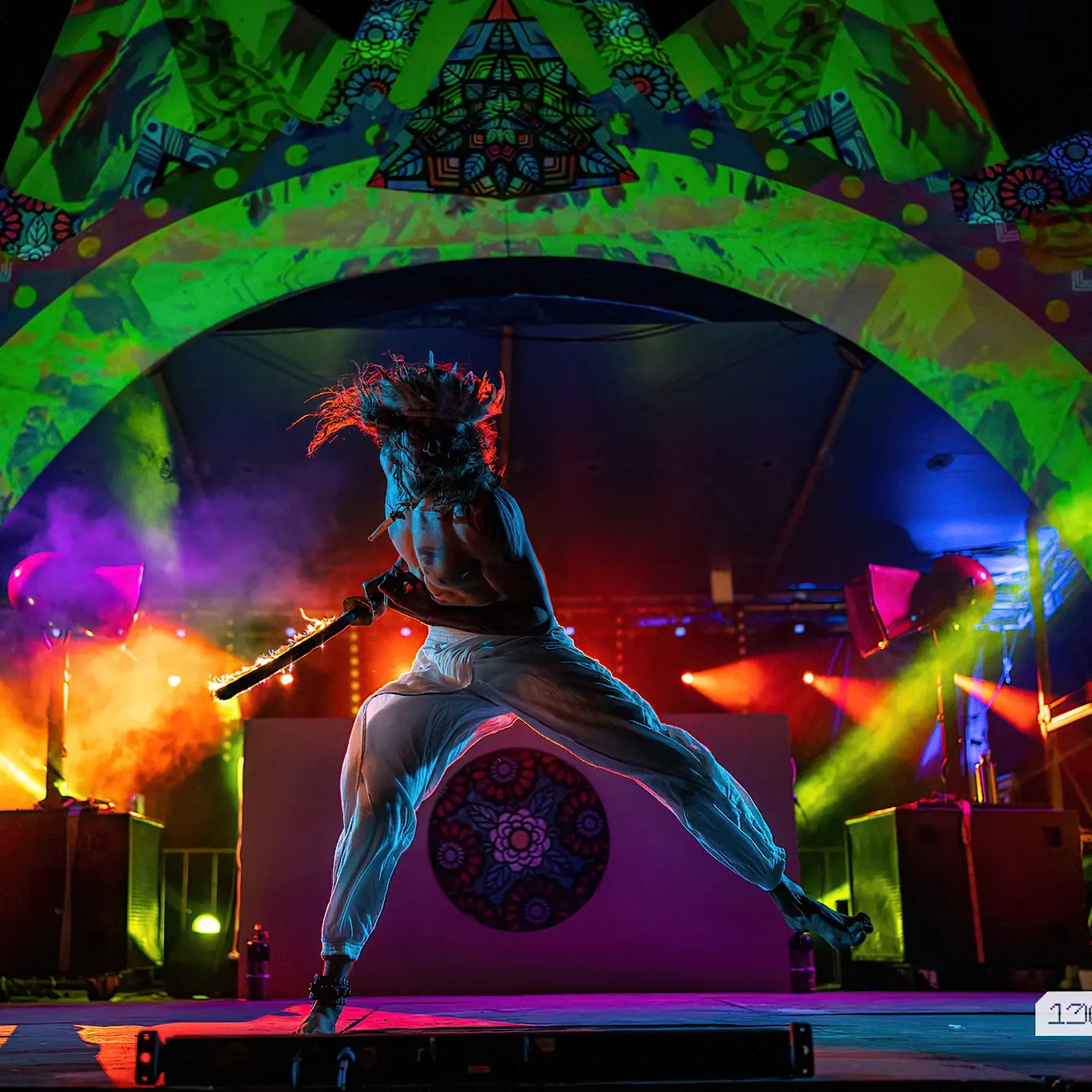 Embodying the essence of movement, I am performer who has embarked on a captivating journey of self-expression through various forms of physical arts. It all began when i dived into the ancient art of kung fu, where I honed my skills in using the bo staff, mastering dexterity, speed, and a raw expression of my masculine energy. From there, I delved into the realm of tai chi, connecting with my body on a deeper level, tapping into my feminine energy and unlocking a new dimension of flow.

But my journey didn't stop there. Seeking to explore the full potential of my being, I immersed myself in primal flow, capoeira and more, learning to harness the complete mobility and expression of my body. And thus, I coined my unique style as "kung•zen•tration," as I allow my body to flow with the rhythm of nature, a harmonious fusion of art, athleticism, and soul.

With my diverse background in martial arts and primal flow, I bring a captivating and original flavor to the stage as a dancing performer. My movements are an expression of my innermost self, a symphony of fluidity, power, and grace. Through my performances, I aim to inspire and transport audiences to a world where the boundaries of the body and mind are transcended, and the language of movement becomes a universal art form.

So come join me on this artistic adventure, as we journey together through the rhythm and flow of music, and let our souls dance freely in the magic of the moment. Let's create an unforgettable experience together at Initiation NYE, where movement becomes a captivating expression of the human spirit.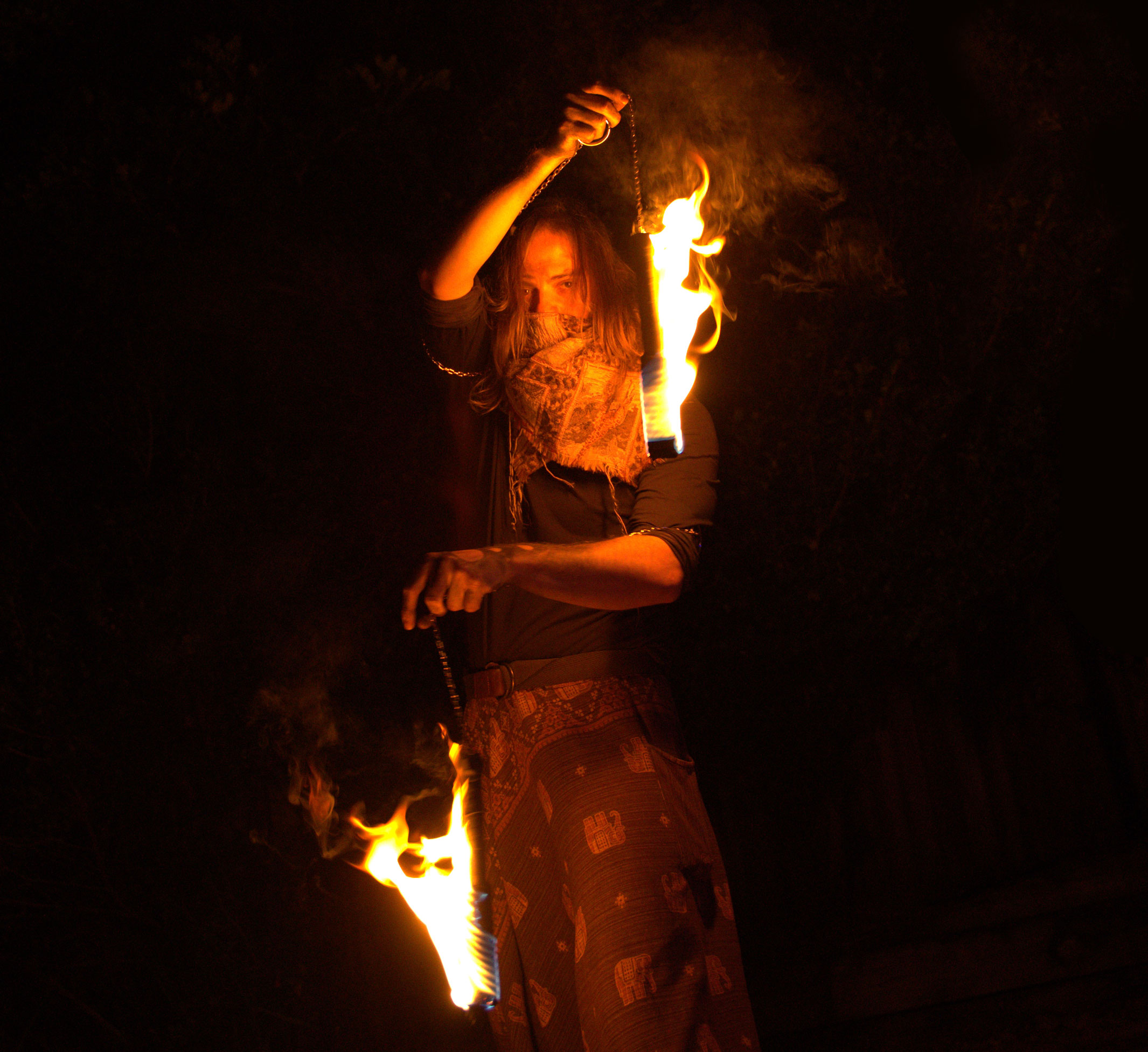 On a stormy night in the Australian desert, there was a sight to which only one lone wanderer bore witness: the sky burning red with not one meteorite, but two. He watched them, transfixed, as they plummeted to the earth in a manner he thought not possible. They seemed to be alive, dancing with one another to the rythm of the thunder. Weaving back and forth; Ebbing and flowing. At first playfully, then fiercely, then passionately, before all too soon, they hit fell into the horizon.

After some hours of searching he found them. They lay in the same crater, smoldering gently in a flickering bed of embers. They were beautiful, but he could sense a sadness in them that they had fell still so soon.

Inspired by what he had seen, he acted. He could not place them back in the sky, but he could do this much. He gathered his tools and a length of chain, and fixed the meteorites to its ends; then picked them up and swung them gently, stoking their embers and causing them to burn with approval. He smiled, and in that moment vowed that he would learn to move them, so that one day they might finish their dance.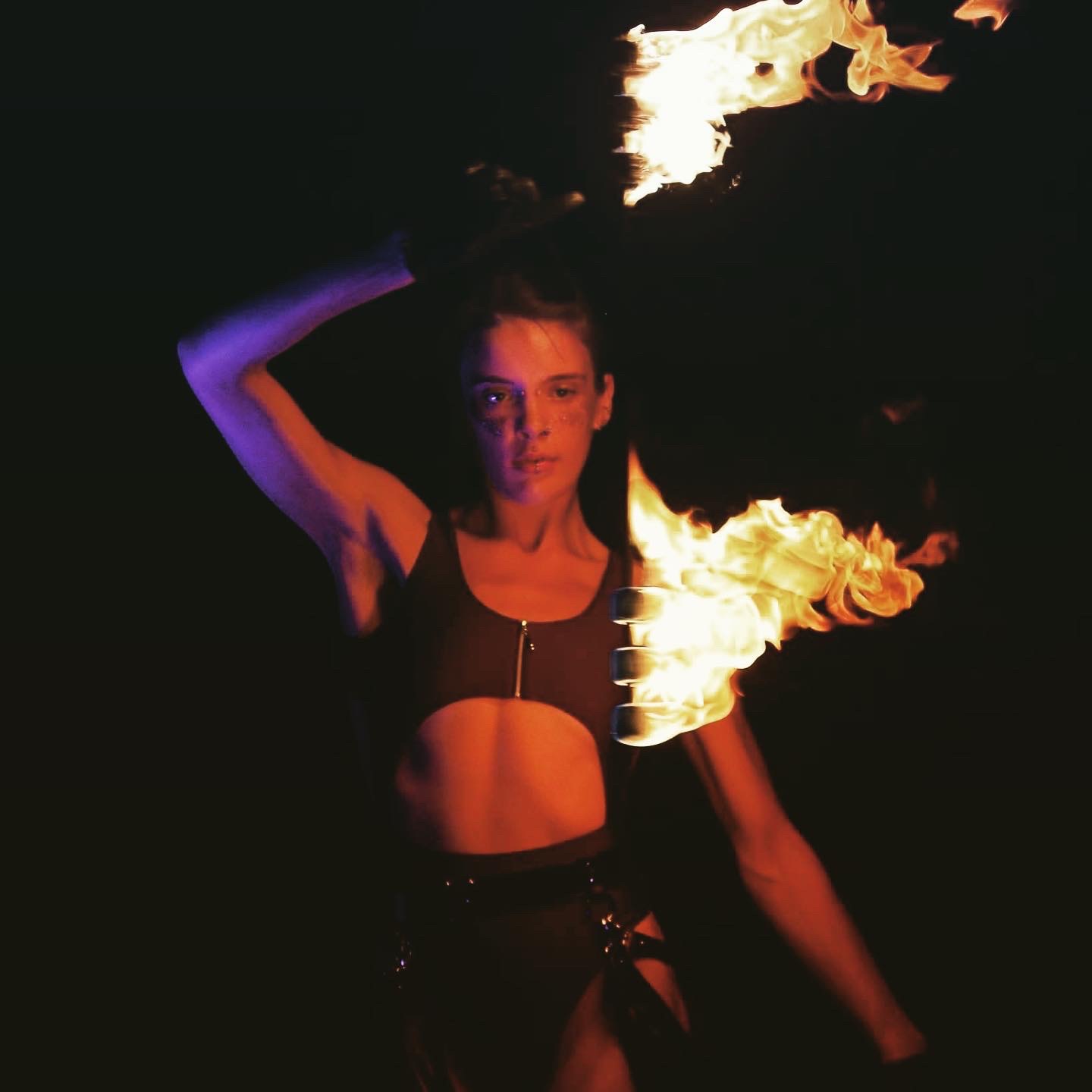 Did somebody say Magikc?! Be amazed by the illusion of leviwand flow, see the magic come alive with led and fire. Meagan has been spinning short and long string leviwand for 4 years and is excited to bring the magic of levi to amaze and confuse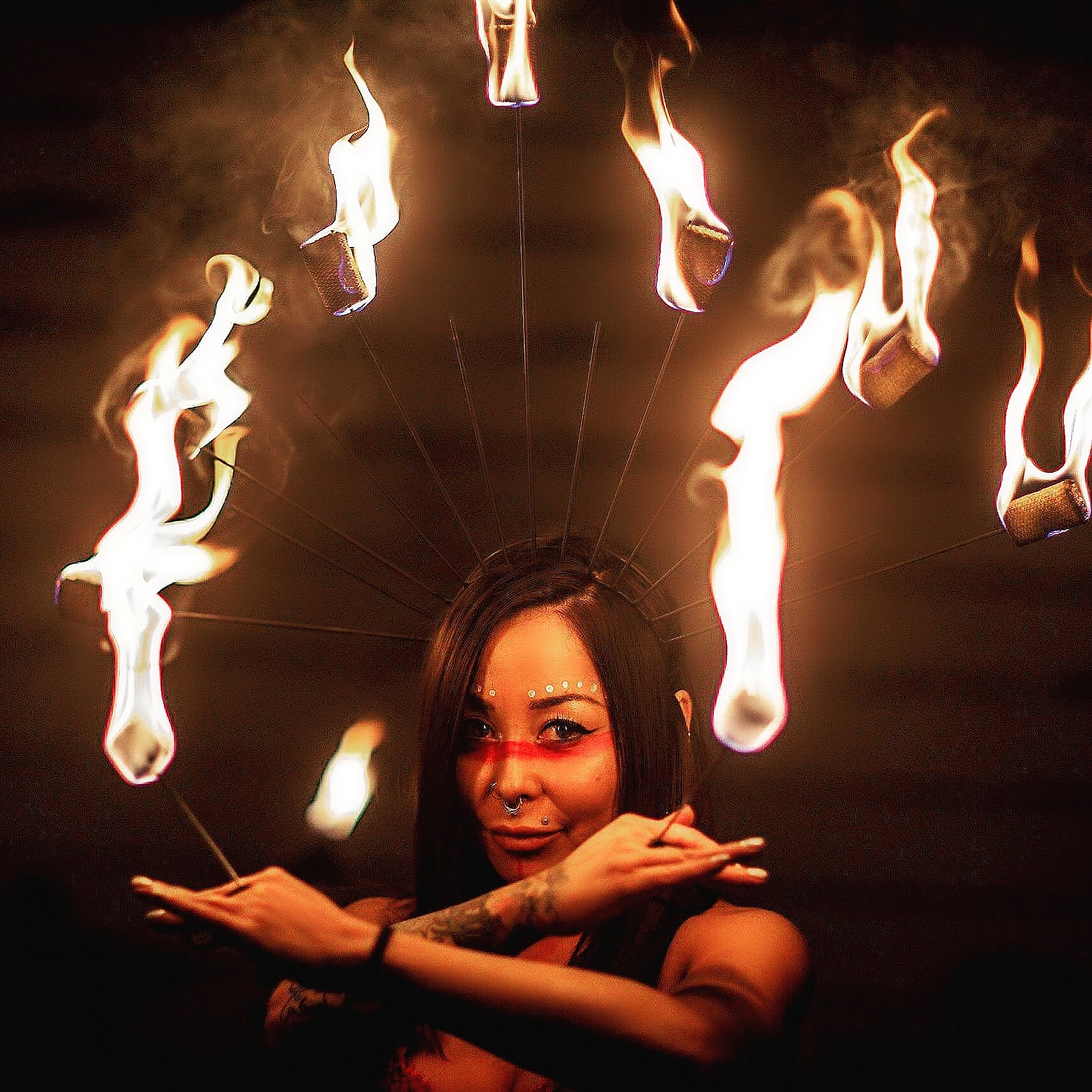 Free flowing natural movement is at the heart of her style, her aim is to captivate and hypnotize the audience feeding off the already psychedelic atmosphere.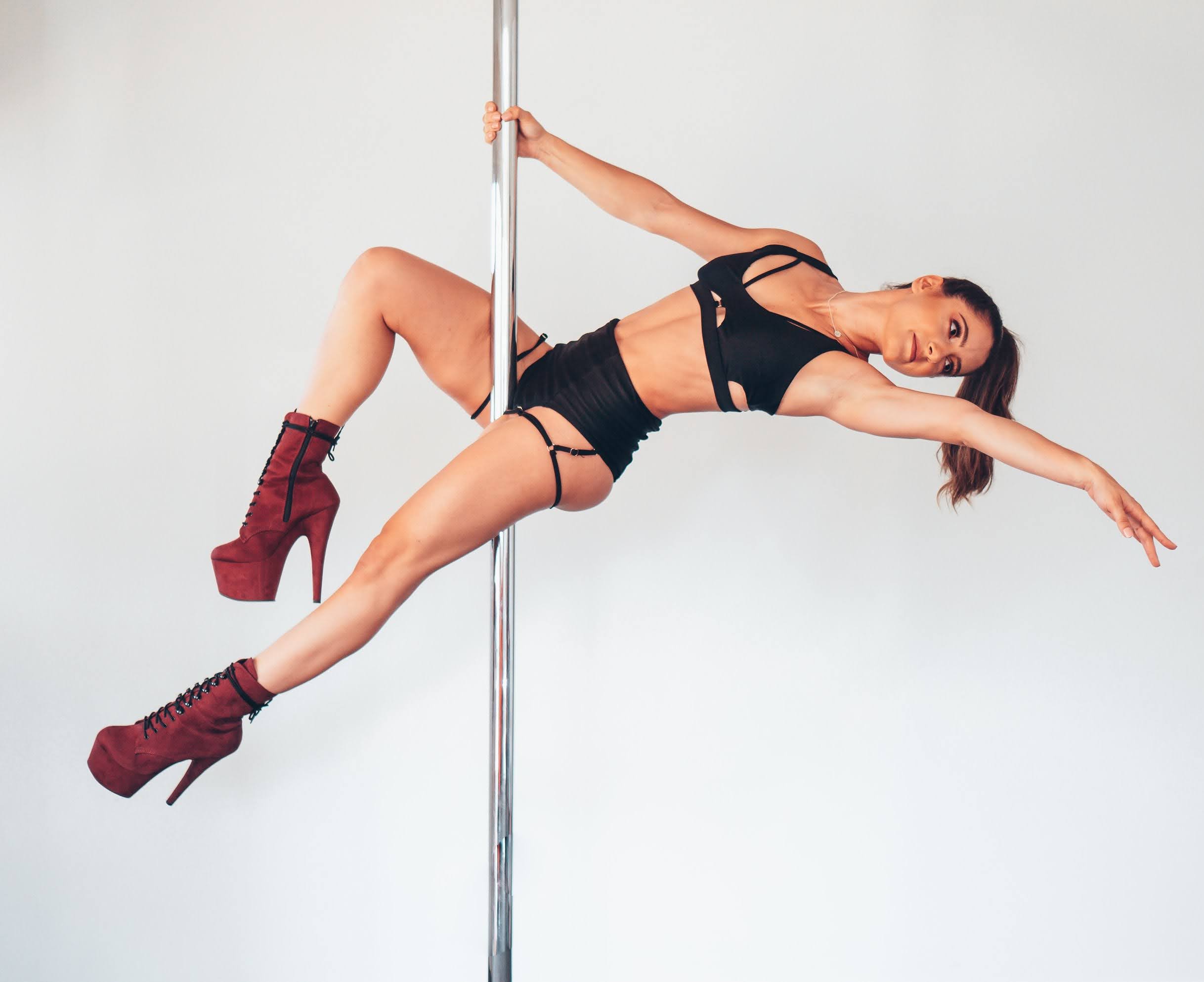 Bruna Pole Dance is an instructor and performer who's spreading the art of pole dancing.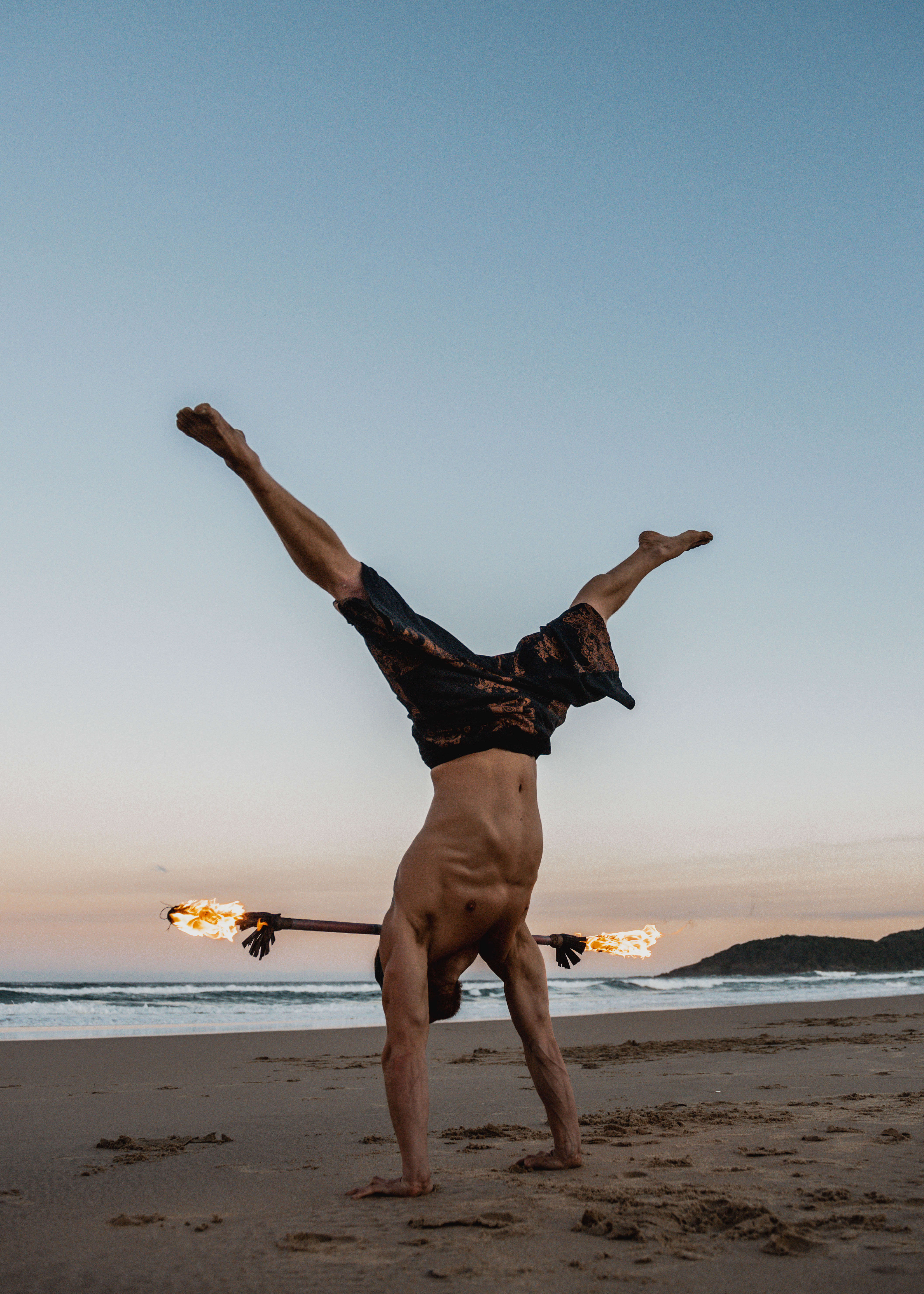 Journeying from a background in many different disciplines, Stefan brings together acrobatics, dance and fire props with a deep flow-state and jovial quality. With intentional, present movement to the music, Stefan enjoys balancing the structure and discipline of the yang, with the flow and creativity of the yin - as student of it. With contagious, playful energy, he enjoys inspiring fellow humans to do the same for themselves. This is all part of the primal evolution.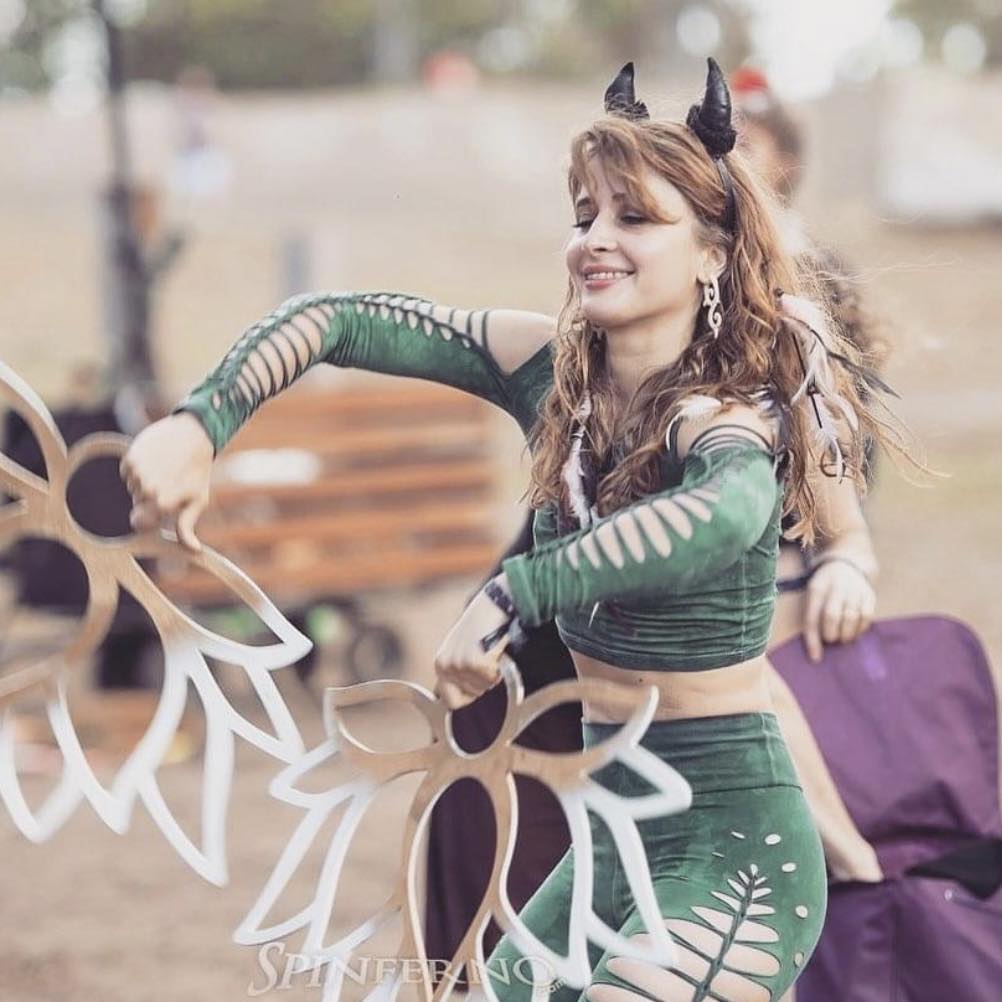 Orphaned at a young age, Shakti-Ra was forced to pursue a life of petty crime until she found the art of fire dancing. She specialises in fire fans , poi, silk fans, fire palms and she will debut her fire crown for New Years if accepted.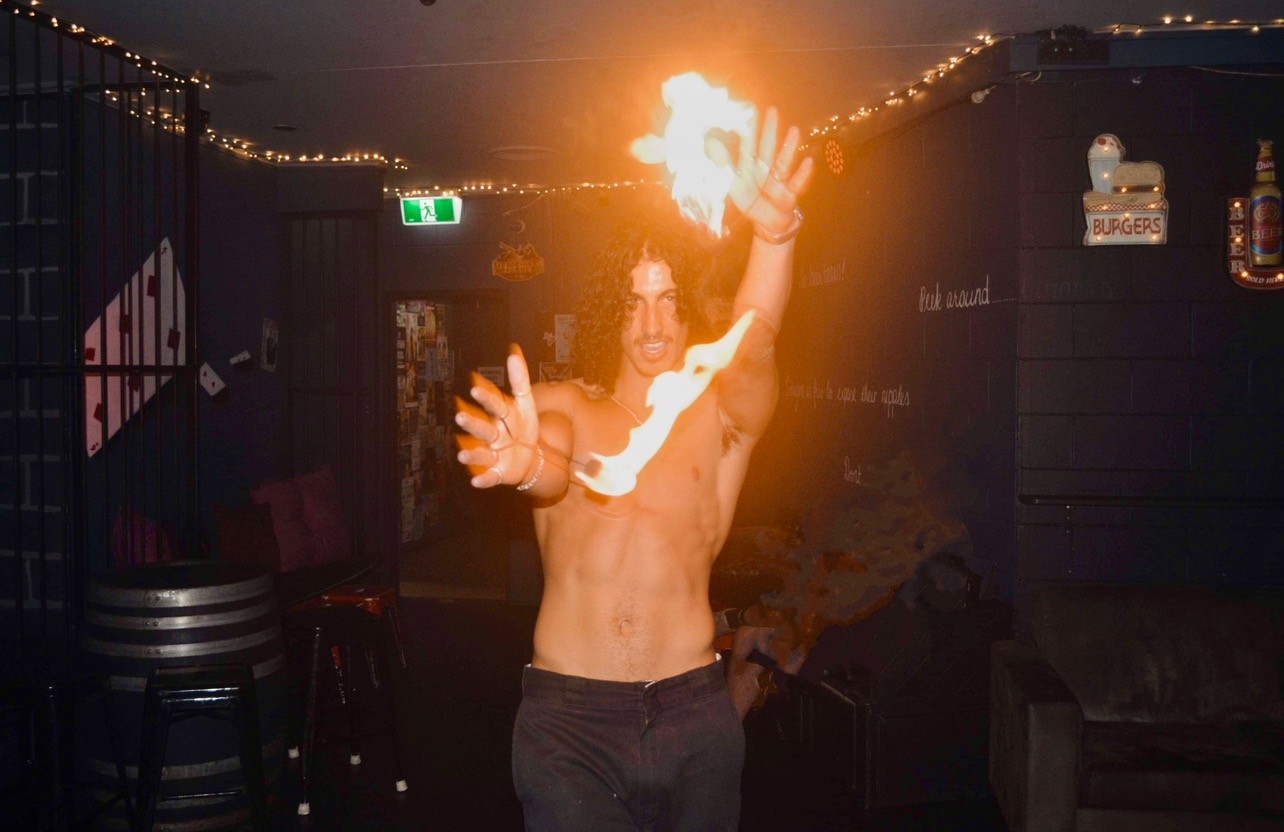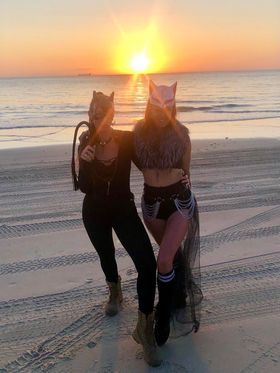 Welcome to the Sensory Spectacular! This lively and interactive roving fun is designed to delight all your senses and ignite your imagination. Prepare to embark on a journey of wonder as Megan and Arielle activate your sensory world. From tantalizing aromas, to mesmerizing sounds that transport you to distant lands, releasing and relaxing touch, tasty delights and eye capturing costumes indulge all your senses. Megan and Arielle guarantee an unforgettable experience for everyone looking to be pleasantly captivated and stimulated, creating exciting and memorable sensory experiences for festival fun, taking you on a thrilling journey of sights, sounds, smells, tastes, and textures like never before. A unique fusion of artistry and sensory stimuli.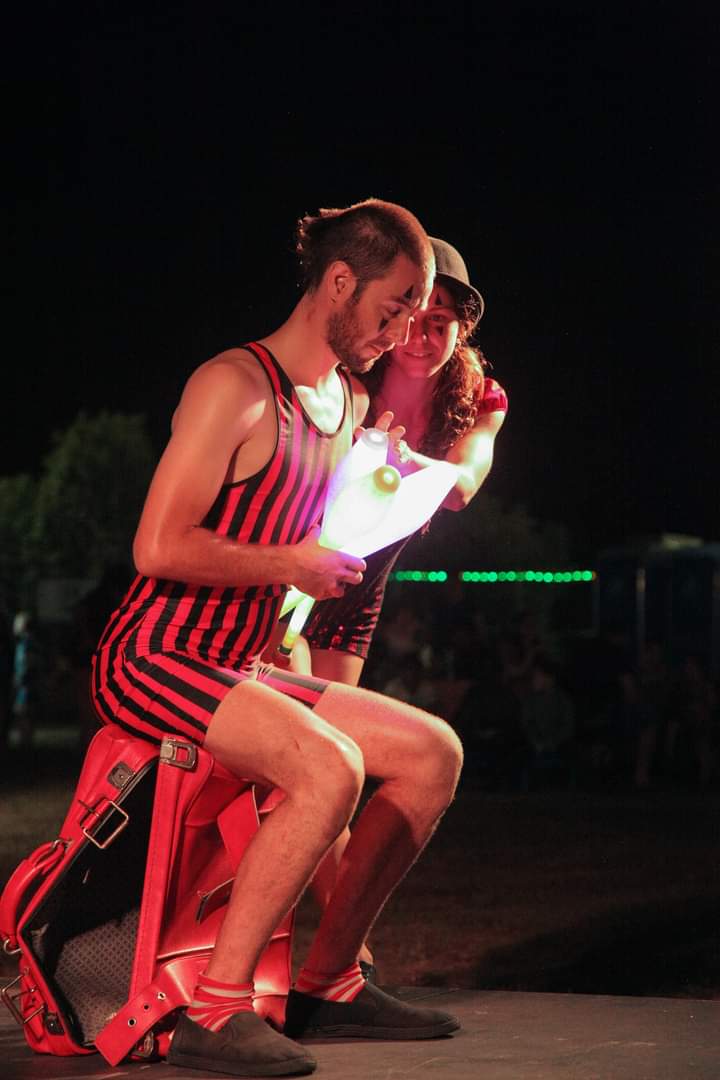 La bio te la mando in privato che ho cambiato telefono devo trovarla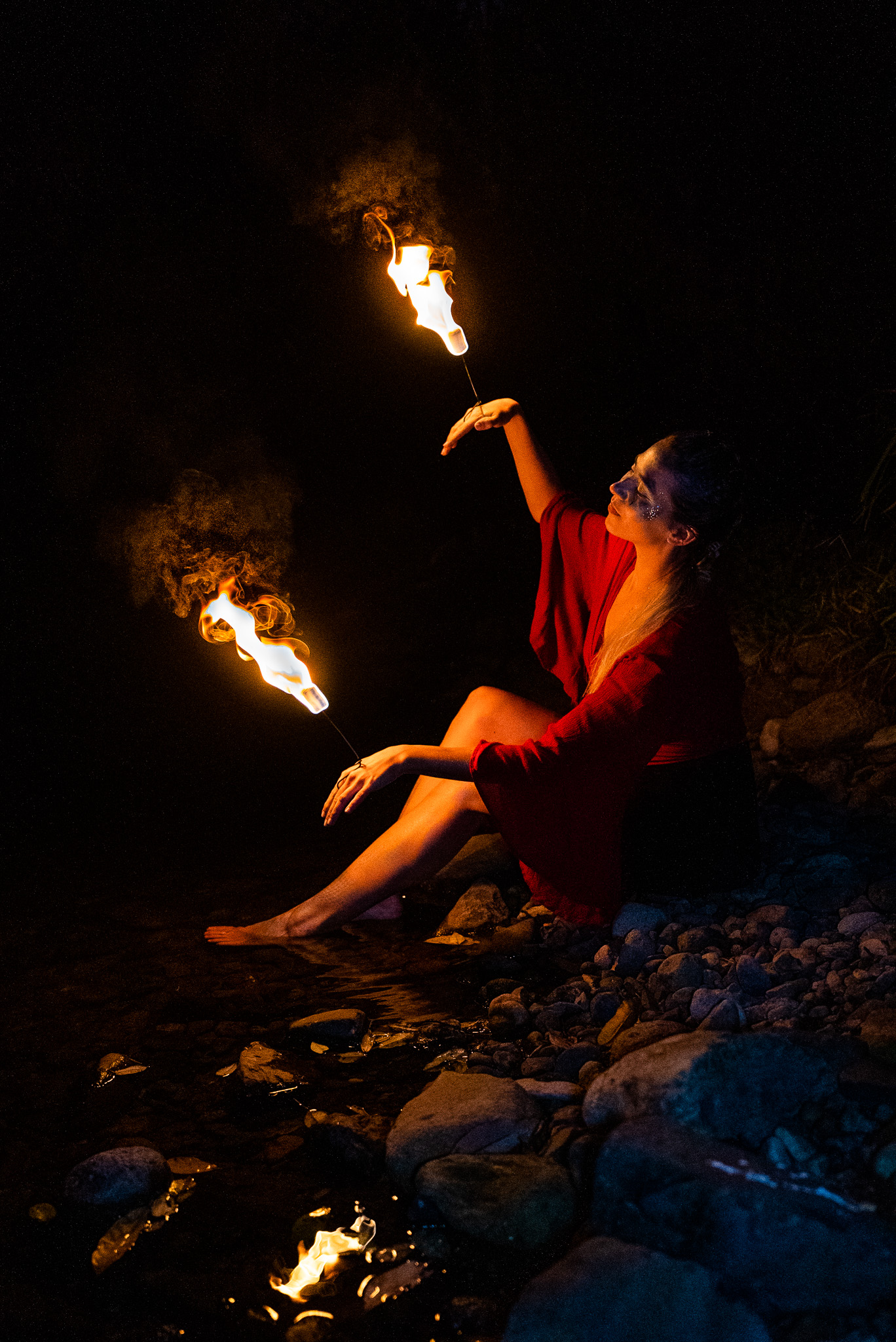 Veronika travelled all the way from the Czech Republic to spin and teach poi in Australia. She experienced performing with various circus ensembles and is excited to explore the local festival scene.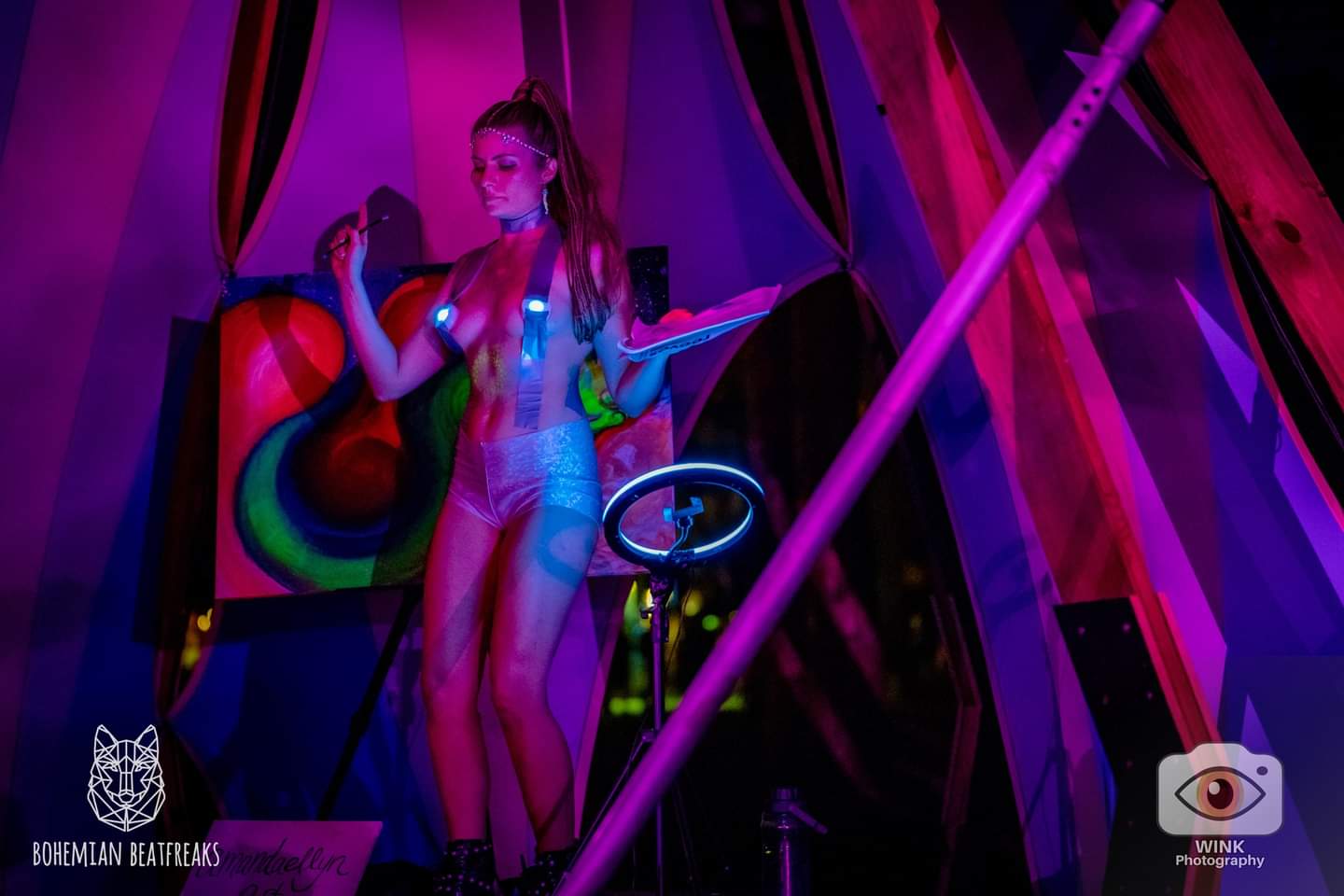 I am Amanda Ellyn Steele, an artist at heart, and a doctor by day. I was born in Chicago and raised between USA and Australia. I am a Wirajduri woman with ancestors who flourished along the banks of the Kalare (Lachlan River) in a locality called Merriganowry near Cowra, Wiradjuri Country.

I have been drawing, painting, dancing and performing since the age of 3. My work is inspired by many aspects of my life, largely my roots. I incorporate ancient First Nations stories into my art, which were shared with my by a Wiradjuri Elder of Kalare. My main mediums include graphite pencil, and acrylic paints, although, I enjoy exploring different art mediums. I especially love incorporating ultraviolet movement into my art. My favourite styles of visual art are impressionist art, surrealism, and Aboriginal art.